Gone are the days when Olive or Arabic skin tone was looked down upon. Today, an olive skin tone is considered beautiful, elegant, and glamorous. People nowadays swear by the beauty of Arabic women and often want to have a flawless dusky skin tone just like them. It's a worldwide known fact that Arabic women carry themselves confidently.
Makeup is a crucial part of their lives and, here we will be giving you a list of 10-pretty lipstick shades that go well with an Arabic/Olive skin tone.
1. Maybelline New York Stay Matte Ink Liquid Lip Colour
Shade: Escapist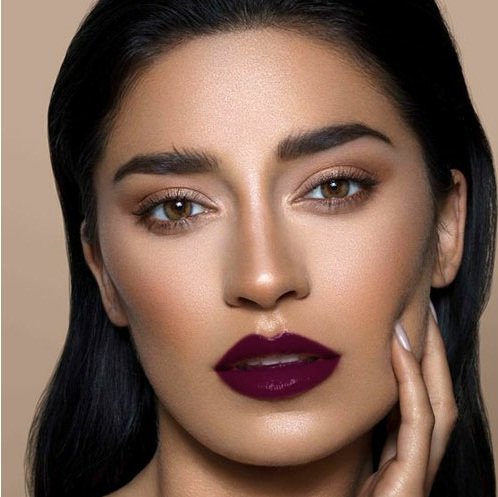 Well, purple took over the makeup industry last year in 2018 and, we can't deny the fact that it compliments almost every skin tone. Be it dusky, wheatish, dark, or fair. It just requires a little knowledge of the right shade of purple and, you are all set to rock the stage.
Here is the Maybelline New York Stay Matte Ink Liquid Lip Colour in Escapist shade that is dark purplish in colour. The matte liquid lipstick comes with a soft and precise applicator that makes it easy for you to glide it across your lips.
Dark Purple compliments the Arabic skin tone perfectly and, you are absolutely going to love it.
2. Maybelline New York Gigi Hadid Matte Lipstick
Shade: Lani
The next lipstick is from the house of Maybelline New York. Within only a few moments of its release, Gigi Hadid became the most trendsetting, sensational, exciting, and loved makeup series by Maybelline.
The Lani shade is somewhere between Red and Maroon that goes well with Arabic skin tone. You will surely fall in love with the smooth creamy texture of it and the way it blends with the dusky skin colour. Apart from all this, you get a bold finishing look that goes with almost every makeup look.
3. Flormar Silk Matte Liquid Lipstick
Shade: Carnation Red
The only colour that never goes out of trend – Bold Red! We can already hear some cheers for Red. Here is the Flormar Silk Matte Liquid Lipstick in shade Carnation Red that would give you some serious lipstick goals.
The smooth and silky formula of this lippie glides across your lips seamlessly and leaves behind perfectly hydrated and coloured lips. Formulated with long-lasting formula and essential oils, it goes a long way without staining your coffee mugs.
4. L'Oreal Paris Color Riche Matte Lipstick
Shade: Hype
This orangish-red shade from the house of L'Oreal Paris is something you will adore. The shade "Hype" is truly worth all the hype! This matte lipstick is good to go with dusky skin tones and gives an elegant finish.
A single stroke is just enough to enliven your lips and turn them into plump pouts. Intensify your skin tone with this shade and, you would be the next talk of the town.
5. Maybelline New York Color Sensational Matte Lipstick
Shade: Beige
Well, do you know the most amazing thing about Arabic Skin tone? It can handle any colour, from light nudes to dark poppy reds, everything. If you plan to go plain and simple, Beige by Maybelline is the shade for you.
Perfect for formal meetings, the shade matches the natural colour of your lips and gives you a sensible look.
The lipstick slides easily on your lips, leaving them mattified and flawless.
6. Benefit Cosmetics ChaCha Lip Balm
Shade: Coral
The next lippie up on the list is the exquisite lip balm by Benefit Cosmetics. Though it's a lip balm, it will stain your lips perfectly while keeping them moisturised all day long.
Who doesn't know that Coral is the Pantone Colour of the Year 2019? And, that means, you can wear this colour with pride and flaunt your regular look. We bet other ladies would go gaga over your ChaCha lip balm!
Also Read: 10 Lip Colours in Living Coral Shade That Will Give You Life.
7. Pretty By Flormar Matte Lipstick
Shade: Hot Burgundy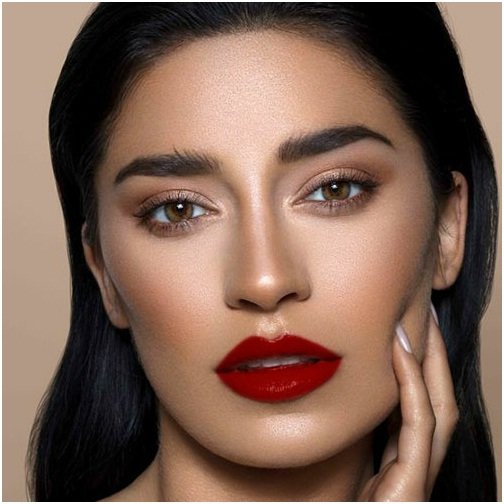 Burgundy is the new shade that is gaining all the attention from the ladies. The hot and sensational Burgundy shade allows you to create several exciting and bold looks.
The colour compliments the Arabic skin tone beautifully and looks great while wearing. The hot Burgundy shade by Flormar is all you need on your next date. The wearable formula of this lipstick sticks to your lips for longer without smudging-off.
8. Flormar Extreme Matt Lipstick
Shade: Chocolate Fondue
Just as you can't resist chocolates, you can't say no to this colour even. The Chocolate Fondue lip colour by Flormar is a perfect shade that matches with the Arabic skin tone.
The matte lipstick has a unique design that makes it easy to apply and leaves behind a playful tint on your lips. The intense colour gives you perfectly puckered and plump lips. Grab the chocolate lippie and set out on a world-conquering voyage.
9. Pretty By Flormar Stay True Lipstick
Shade: Nude Pink
While bright pink colour might not look so great on dusky skin tones, a colour between nude and pink will do the job for you. Check out the Nude Pink shade by Flormar that gives you the perfect flawless look.
You just need a dash of it to finish off your look and, trust us when we say the other ladies are going to feel extra-jealous of you. The lipstick is long-lasting and will stay more on your lips rather than on mugs.
10. Maybelline New York Colour Sensational Loaded Bolds Lipstick
Shade: Sapphire Siren
If you want to use purple but for casual occasions, Sapphire Siren by Maybelline is the perfect shade for you. The Arabic skin tone handles both bold and light colours like a boss!
This lipstick will give you a chic yet decent and sensible look. It is infused with a long-lasting formula and gives you even application, owing to the sturdy yet smooth stick.
These were some of the beautiful and sensational lipstick shades that go well with the Arabic skin tone. We all are beautiful regardless of the skin tone we have. With the makeup industry being generous enough to provide us with numerous shade options to choose from, one must choose something that makes them feel confident and good about themselves because makeup is not to conceal your beauty but, to enhance it naturally.