Eyes unsurprisingly take up most of your time when you're putting on makeup. After all, those tiny sparkly gems are part of every facial expression that you make — happy, glad, disappointed, sad, angry or sorry. You may be saying something else but, you know from experience that your eyes will give you away anyway.
10 Eye Makeup Trends To Follow And Do
Dress up your eyes with these easy eye makeup ideas that are anything but boring this fashion season:
#1. Bushy Eyebrows
Natural-looking, full eyebrows remain to be in season. Gone are the stern looks which single lined, tattooed eyebrows left ladies with in the 90s! We're not sure for how long but, for now, it's enough for you to know that you shouldn't have to shave your eyebrows too thinly.
Gel eyebrows are fine most especially if you have oily skin but, always top it off with a pencil liner to spread out the ink more evenly to give you fuller, more realistic eyebrows.
#2. Strobed Eyes
Strobing is a new way of putting on makeup that fuses more of your skincare products with your color cosmetics. The objective is to give your face a dewy finish. To achieve this for your eyes, use a nova derm eye cream. Generously apply the product on skin surrounding your eyes. Leave the dewy shine on the space between your eyebrows and the folds of your eyes, then top everything else with a concealer to tone down the shine.
Must Read: How To Grow Thick And Long Eyelashes Naturally?
#3. White And Bright Wings
In a hurry? You don't really need to color your eyelids full. Simply pick up a white or bright colored eye liner gel and take it all the way to draw your wings. You can choose to fill in or not.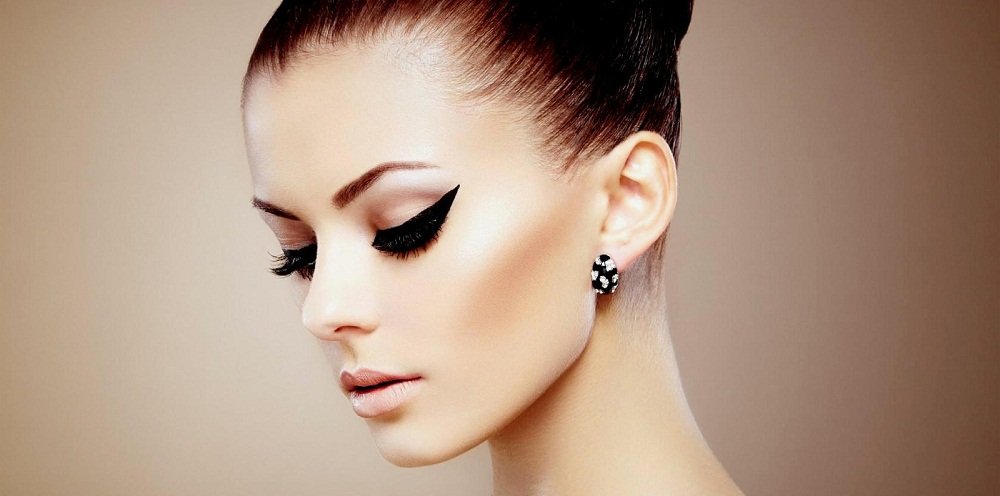 #4. Bright Eyes
There's no doubt about it, that the makeup look of the 2016 fashion season is no other than the blue powder eye makeup seen on Chanel runways! It simply gives fashionistas fresh makeup ideas. To get the look, get hold of a baby blue powder makeup. Using a nude eyeliner or sharp edged concealer, draw the outline of the eye makeup which resembles sunglasses.
With a good eye shadow brush in and on the outline — coloring everything from the corner of your left eye to the corner of your right, passing over the bridge of your nose. Pair with nude lipstick. It is trending and daring and yet undeniably dainty!
#5. White Powder On Eyelids
Another popular runway statement is simply swishing on white powder on your eyelids.
#6. Bright Eyeliners
Simply take metallic shades of green, blue or yellow to line your eye line, top and bottom.
See Also: How to Apply Eyeliner to Accentuate Your Eyes
#7. Bare Eyelids And Eye Lines With Long, Fluttery Eyelashes
Get away with just fluttery eyelashes and a good eye skin with this look. Make sure to treat with an eye cream like Nova Derm Eye Cream to own this look. For even better, curlier eyelashes, get yourself an eyelash extension and never have to worry again about clamped and stiff eyelashes.
#8. Chunky Smoky
If you still haven't quite mastered the look, here's a simple tip to get you on track. Prep your eye lids with a nude concealer to keep all of your eye products in place. Draw your cats eye. Using a nude or white eyeliner, mark the line close to your eyebrows where your smoky eyes will end. Taking an onyx or deep purple or dark blue color from your palette, use your eye shadow brush to blend in the color in a gradient.
#9. Light, Sparkly Sunset Shadow
For a quick, sophisticated look, take a cream-based lip color in light peach or light orange. Dip your fingers on it and apply on your eyelids. Create a light gradient above the fold, towards the outer corner of your eyes.
Recommended Article: 10 Great Makeup Tips For Working Ladies
#10. Sheer, No Makeup Look
Simply even out your complexion with a good BB cream. Make up for imperfections around your eye area. Give your eyebrows a nice arch, lift by applying highlight under the lower eyebrow line.
Conclusion
Rock the finest trends in eye makeup this season with 10 looks to choose from.
Related Video:
Author Bio: Lisiana is a renowned independent researcher and is studying the impact of technology in the beauty industry. She is passionate about beauty, makeup, fashion and skincare industry. She holds a Ph.D. in beauty and thereby has been consistently sharing her experience by writing various articles related to makeup, beauty, fashion and skin care.