Looking for the best places to drink and dine in east London? We are not surprised anymore; east London is the place where you can find unique dining experiences, restaurants bars, music bars and many more. Check out our selection of the 5 best places for dinner and drinks in east London or check out squaremeal for a complete guide to eating out in London for further inspiration.
1. Bar Kick
When someone says "hey want to go watch the football at a pub?", the first thought that comes to your mind is to sit in some ancient geezer establishment drinking pints of Carling. But hey, that's not a bad thing. I've made plenty of old football friends at the bar before.
But what if you're sick of smelly old sticky floor pubs? Luckily there's Bar Kick, situated on Shoreditch High Street. Bar Kick is best known for it's table football (or foosball) and constant showing of Live Sports (yes, they do put commentary on). When sports aren't on, they use their downstairs basement to host a range of events from comedy to readings.
They have a great selection of bar snacks such as hummus with toasted nuts, or you can get serious with their larger meals like the classic hot dog or teriyaki chicken sandwich.
Or just do what I do, grab a tall bottle of Super Bock, watch some live sport and then get smashed in Foosball.
2. The Fox
The Fox is an elite member of my "Top 3″ East London pubs that share a relaxed environment and a great selection of beers (the other two are Hops & Glory and Sebright Arms in case you were wondering).
The Fox sits on Kingsland Road, just about a 5 minute walk north from Haggerston Overground station. They've completed everything on the hipster checklist: board games, couches, craft beer and having slow cooked pork belly bites on the menu.
Just a warning if you're clumsy like myself: The bar is actually on a raised platform. Everytime I make my way back to my seat with 3 pints in my hands I almost trip up and spill the beers over a group of girls from Dalston who probably work in fashion.
3. The Tramshed
Tucked away in Rivington Street (nestled in-between Great Eastern Street and Old Street) is The Tramshed, a large restaurant inside an old trashed building serving everyone's favourite: chicken and steak.
The menu simply consists a few starters to share and then a choice of either going for some "Swainson House Farm Chicken" or "Glenarm Might-Marbled Steak".
The main feature of the interior is the specially commissioned "cow and a cockerel" artwork by none other than Damien Hirst. However if you ask me what my favourite artwork is inside the restaurant, it would have to be the giant poster of Cow & Chicken at the back of the restaurant.
4. Duck & Waffle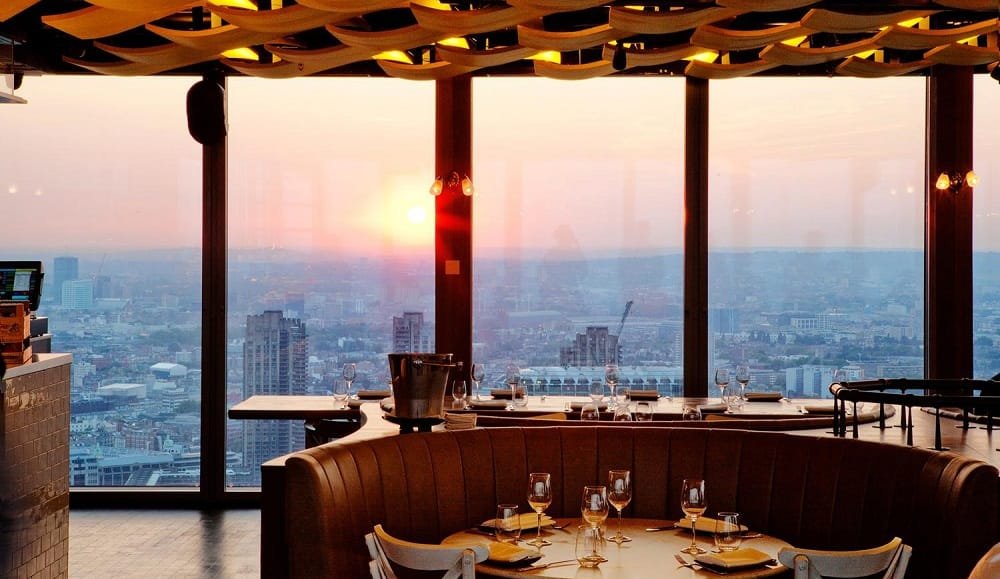 Duck & Waffle is located on the 40th of the Heron Tower, which apparently means it is the highest restaurant in the UK. Duck & Waffle provide a range of dishes which are aimed to be shared with your fellow diners.
Upon arriving you'll get shot up a glass elevator which overlooks the Thames, St Paul's and Westminster. You'll then enter the cocktail bar which will put you within touching distance of The Gherkin (close enough to throw a medium sized rock through a window).
The actual restaurant is on the north side of the building, with magnificent views which are basically bordered by the three big stadiums: Wembley (west), Arsenal Stadium (north) and Stratford's Olympic Park (east).
The menu item "Duck & Waffle", the restaurant's obvious signature dish is a must, but I would also encourage you to try the "Spicy Ox Cheek Doughnut".
Bookings are essential and prime time spots are taken up well in advance. However, for some crazy reason Duck & Waffle is a 24/7 establishment. My brother came to London and since he hadn't made a booking, decided to snap up the only available time slot left: 6 am. What he got was view of London during sunrise – not a bad compromise.
5. Le Mercury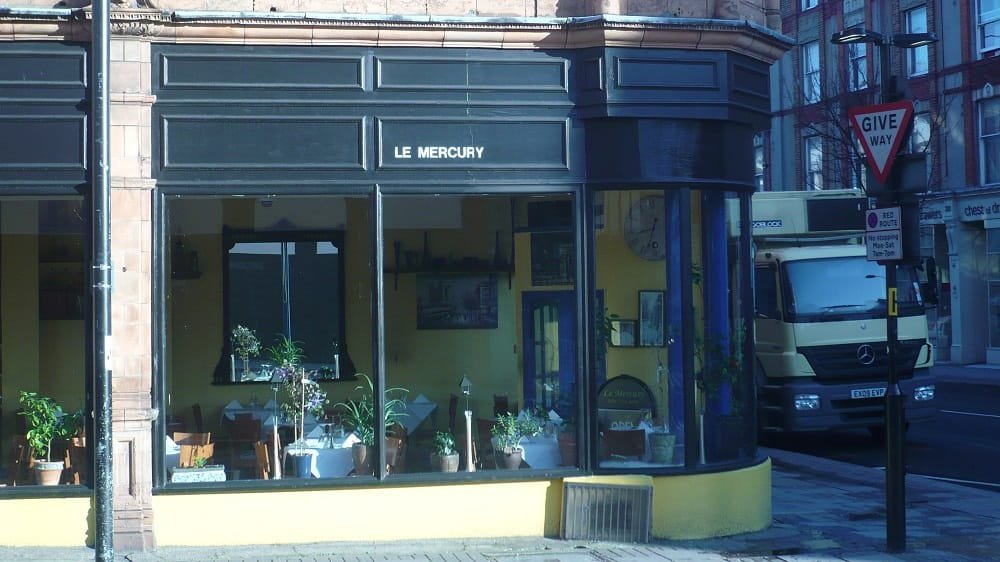 This place is the ultimate date destination. Dark, candlelit, cosy with terrific food at affordable prices. They must be doing something right as they've now got two restaurants within 100 metres of each other on Upper Street. I prefer the original restaurant, so try book there if you can.
Main courses come in at just 10 quid and include all your favourites: beef, duck, chicken, pork and fish. Don't forget to get a side of vegetables and french fries.