When it comes to building muscle, your diet plays a huge part. Eating carbs and protein will help you get the body you want. If you're tired of drinking protein shakes from the convenience stores, and huge steak and cheese sandwiches from your local sandwich shop, check out these five tasty dishes and see how pleasant building muscle through your diet can really be!
1. Balsamic Steak and Veggie Rolls
Once you have this savory meal, you'll never want to eat anything else. It's that good. The balsamic, steak, and vegetables go together perfectly and provide a bevy of protein and nutrients. Add some whole brown rice on the side, and you've got all the protein and carbs you need to build some serious muscle.
This recipe is designed to use an oven, but you could always pop it into nonstick cookware with a lid or even do a version of it in a slow cooker if your oven is indisposed and it will come out just fine.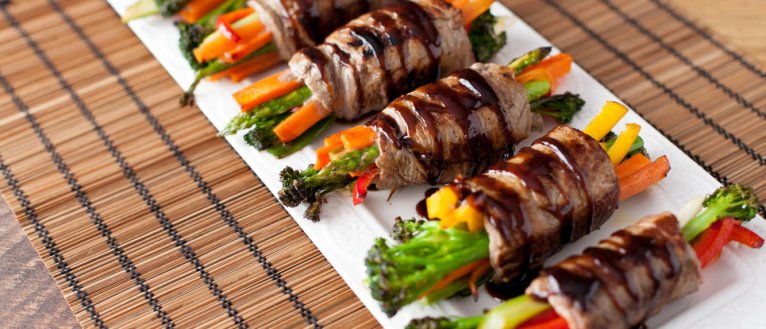 Ingredients:
Thinly sliced sirloin/flank steak
Extra virgin olive oil (EVOO)
Salt and pepper
Fresh rosemary
1 red bell pepper, 1 green
1 zucchini
1 onion
Mushrooms or any vegetables you want to add
Glaze:
2 teaspoons olive oil
1 clove garlic
1/4 cup balsamic vinegar
2 teaspoons brown sugar
Rosemary sprigs
1/4 cup beef broth
Dash of red wine
To Make:
Chop your vegetables into long julienne strips.
Rub steaks with EVOO (extra virgin olive oil).
Sprinkle with salt, pepper, and rosemary.
Heat oil in a skillet and cook the vegetables until somewhere between raw and cooked, sprinkling with salt and pepper.
Next, take your veggies and place in the middle of the steak piece, rolling up and putting a toothpick in it to hold.
For Glaze:
Heat oil in small saucepan on medium.
Add chopped garlic, cook for one minute, and then add vinegar, brown sugar, rosemary, and wine (optional).
Bring to a boil then reduce and simmer without a cover for five minutes.
Add broth, bring to boil, then simmer for 15 minutes, straining out the rosemary sprigs.
Heat up the grill or your oven (400 F).
Grill for 2 minutes on each side or cook in the oven for 20 minutes, or until done to desired doneness. Take out and drizzle glaze over, and you're done!
You might just find yourself adding this to your list of favorite meals.
2. Barbecued Chicken, Sweet Potato, and Asparagus
This meal is sort of a classic meal broken up into three parts. You have delicious barbecued chicken which gives you plenty of protein and omega-3 fats. It's also packed with amino acid leucine which will help your body convert the protein into muscle. Sweet potato provides necessary complex carbs and the asparagus provides plenty of vitamins and antioxidants, so you can put aside your blender for green smoothie dinners just this once.
Ingredients:
2 chicken breasts
Barbecue sauce
Salt and pepper
1-2 sweet potatoes
1 small cube butter
8-10 asparagus spears
To Make:
Preheat oven to 400 F.
Take your chicken breasts. Sprinkle with salt and pepper, then apply barbecue sauce with a brush. Pop in the oven.
Take your sweet potato and wash it, scrubbing with a vegetable brush if you have one.
Take a fork and poke holes in it, then open oven and place on tray with chicken breasts.
Put a pot of water on the stove and set it to boil, then put spears in and cook until bright green (about five minutes).
After 20 minutes, check on your chicken breasts. If you need them to crisp up a little longer, cook them an extra ten minutes.
Poke potatoes with a fork to see if they are done at this time. If not, cook them along with the chicken another ten minutes.
When ready, pull out and serve yams with a small cube of salted butter if you like. Cut vertically and add salt and pepper! Eat asparagus as is and watch your meal complement the chicken perfectly!
3. Steak Burritos
These burritos are so easy to make and are endlessly customizable. The veggies and toppings can be swapped for any replacements you like! You'll find yourself eating these burritos all the time— especially if you make extra and put them wrapped in foil in the fridge for later.
Ingredients:
1 steak
Burrito or tortilla wraps
1 bell pepper
1/2 onion
Black beans
Avocado
Rice
To Make:
This is an easy recipe to make.
Throw some rice in the rice cooker with salt and water and set to cook.
Take a can of black beans and rinse off; set aside in a bowl.
Heat olive oil in a pan, seasoning your steak with salt and pepper while it heats up.
Prep your other vegetables and get your tortilla wraps out!
While the rice is cooking, focus on your steak.
Heat your pan to high and cook for roughly three to four minutes on each side; enough to sear. Cook more if you like your meat well-done.
Slice the avocado and set aside.
Let steak rest before cutting.
Take wraps and place all ingredients inside — and you've got one delicious burrito for dinner. Yum!
4. Muscle-Building Chef's Salad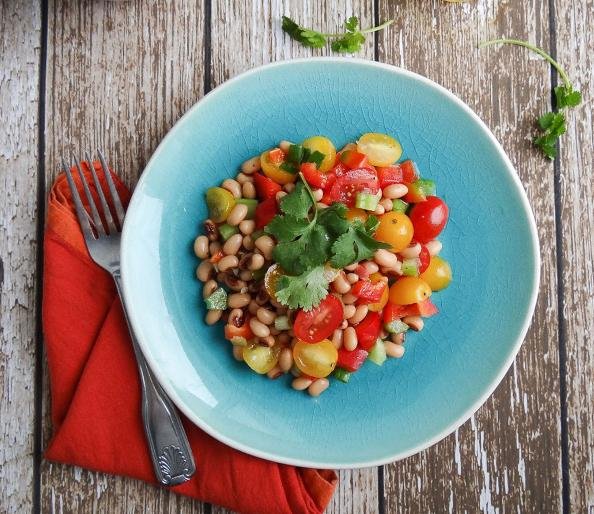 Take your chef's salad and pump it full of muscle-building foods that are packed with protein, antioxidants, and all the vitamins and minerals you need to keep your body powerful and healthy. This salad is so good that you'll be including it in your weekly meals in no time!
Ingredients:
1/2 head lettuce
2 hardboiled eggs
Olives
1 cooked chicken breast
Handful of cherry tomatoes
Sprinkle of grated cheese/sliced Swiss cheese
Dressing
To Make:
Wash all ingredients that are not chicken, dairy or olives and set aside.
Slice up the chicken and strain some olives out.
Chop your vegetables and place into a large bowl.
You can top this salad with any dressing you like, although EVOO-based dressings are the healthiest and will help your body absorb minerals from the vegetables more effectively.
5. Ahi Tuna Poke Bowl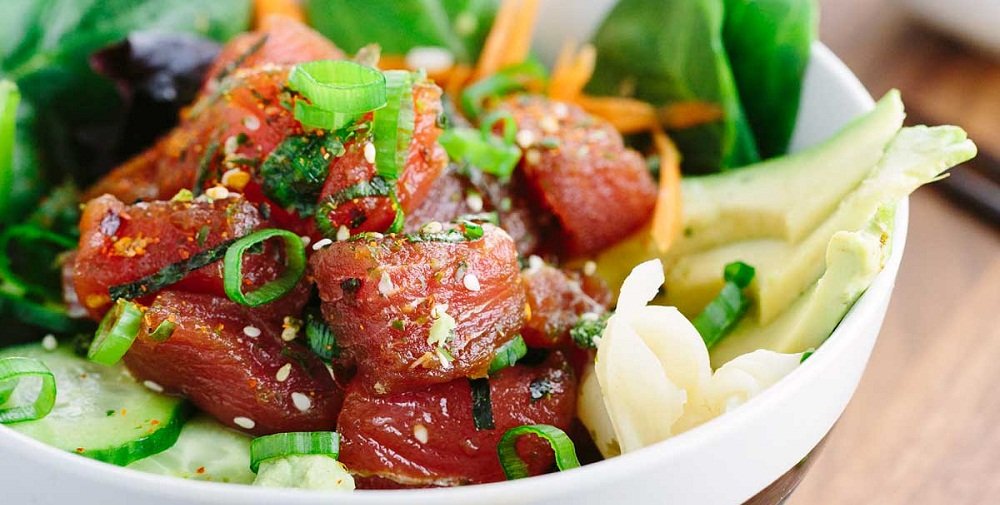 This tuna poke bowl is inspired by the culture and food of Hawaii. It combines rice, fish, delicious beans, avocado, and some fried tofu. Make a dressing out of anything you want — honey and mustard; balsamic vinegar and olive oil with salt, pepper, and brown sugar; jarred sesame sauce, or anything you find appealing.
Ingredients:
Tuna, raw
Rice
Avocado
Tofu
Salt and pepper
To Make:
Cook rice in a cooker.
Get your tuna ready. You can eat it raw or cooked if you don't find that idea appealing – just cook it in a wok with a little sesame oil if that's the case.
While that's cooking, add your tofu.
Season with salt and pepper and add over cooked rice.
You're going to slice an avocado and layer it over that, and you have your poke bowl! Again, any dressing will do for this bowl.
All of these recipes and tried, true, and totally healthy for you. Better than that, they're tasty and will actually help you build real muscle! Try them out and tweak them as you choose. Even if you weren't trying to gain muscle, you would eat these anyway, and that's the goal. Try them out for yourself and see what you think!

Author Bio: Paula is the founder of ChewTheWorld, where she and her associates blog about the best food recipes, tips & tricks, and finest tech that will help you make exquisite food in your home. ChewTheWorld is concentrated on the taste, the joy of cooking, and making the most out of it. She is also a mother of two where she balances between her passion and her biggest joy in life.
Save