We all know that the smoky eye effect can take a woman from looking plain and ordinary to looking extraordinarily sexy. This is one makeup trick that can get even the men to stop and stare. Although it is known to be immensely effective in catching the eye of the other sex, most women skip out on it as it is just too hard to master. The general feeling is that it is better to put on makeup that can be done well rather than experiment with something that you are just going to mess up.
Luckily for you, we can help you achieve that smoky eyed look that will leave people dazzled. So if you are dying to try it out but are afraid that you are going to ruin the whole thing, here are 5 makeup hacks that will help you achieve the effect.
1. Use Different Shades of Eye Shadow and Blend to Perfection
What You Will Need:
An angle brush
A flat eye shadow brush
A fluffy eye shadow brush
Start by holding the eye down and applying a primer all around the eye socket area. Next, take a charcoal black eye shadow and apply it right in the middle of your eyelid. Start blending this out properly. Find yourself a nice jet black eye shadow and apply it on the outer corner of your eye. Then take a natural brown eye shadow and begin to blend it toward the crease of the eye. This will join both the charcoal black and the brown colour well.
Must Read: 10 Eye Makeup Trends You Need To Know Right Now
To add some shimmer to the eye, use a shimmery highlighter in the inner eye corner. Blend this outward so that it joins with the natural brown colour that was applied earlier to the crease. To highlight the brow bone, it is wise to use an eye shadow that is less shimmery as compared to the one used in the eye socket. Now go back to using the same charcoal eye shadow below the waterline of the eye. Blend it inwards.
Next, take a black eye liner and apply it inside the waterline. Use a gel liner to draw over the eyelid and use mascara over the upper and lower eyelash. Use some makeup remover to get rid of all the fall outs. Repeat the same eye shadow technique onto the other eye and only then move to putting on the rest of your makeup.
2. Enlarge Your Eyes
With the help of eye liner, you can easily make your small eyes appear big. You can do this by taking a coloured liner of your choice and using it to draw several lines, starting from your lash line and moving all the way to the brow.
See Also: How to Apply Eyeliner to Accentuate Your Eyes
This will create an illusion of having a bigger eye and big eyes do have a sexiness of their own. What you need to keep in mind is that you should always pick a colour that complements your eyes.
3. Try V-Shaped Smokey Eyes
If you happen to have close set eyes that you would like to rid yourself off, for one night, you can do this in a matter of minutes with the careful use of eye liner and eye shadow. By trying out the V-shaped smoky eyes make up, you can easily make your close set eyes appear to be far apart.
To do this, use a thick shadow liner to draw a nice line over the crease of your eye. Then, starting from the outer corner of the eye, trace a line all the way toward the tail of the eyebrow. Use the same colour to trace out the line of your lower lash. Now, colour in this 'V' with the same shadow stick at the corner of your eye and blend it nicely into the skin. This will give you the desired look.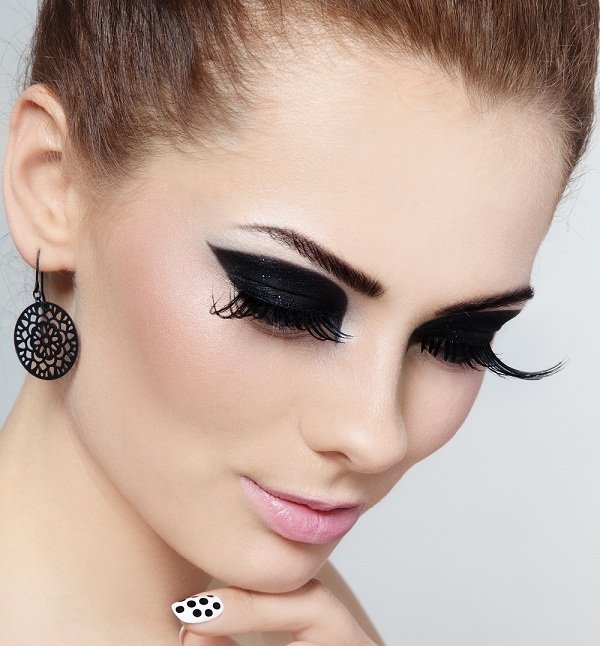 4. Attain Flawless Cat Eyes
Add cream shadow to the crease of your eye to give it some added depth. Now, begin by drawing dots with a pencil along the upper surface of your eyelid. Take these dots all the way out of the eyelid, at a slant. Make sure they are drawn as carefully as possible. Next, get your hands on a liquid liner and use this to join the dots you have created. This will give you a lovely, flawless cat eyed look.
You May Like These: 5 Easy Tips to Shape Your Eyebrows
5. Create Smokey Eyes with Quotation Marks
For a not too noticeable smoky eyed effect, take a dark liner and apply it in a quotation mark pattern. For wide-set eyes, place these marks at the inner, upper corners the eye. However, if you have close – set eyes, place these marks at the outer corner of the eye and blend it nicely using an eye shadow brush. To end the look, line your entire eye.
By following these few makeup hacks, getting creative with smokey eyes will now be a piece of cake.