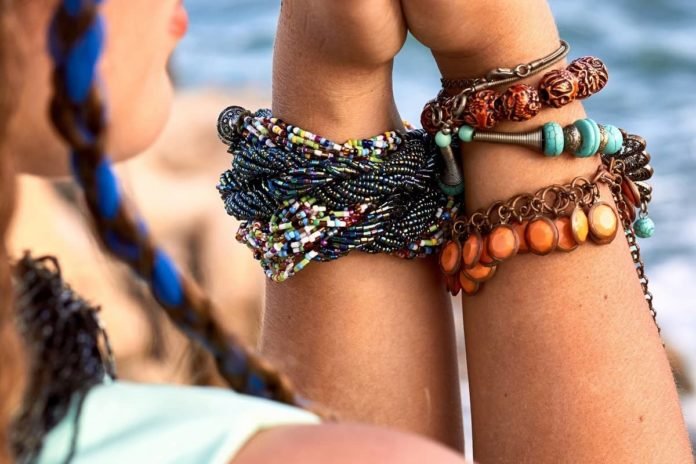 As the fashion trends change regularly, you should be aware of the current fashion. Everyone wants to wear such attires which suit the occasion, environment, and latest fashion trend. Bracelets are among the initial adornments. In ancient times, men and women used to frequently wear gold bands or twisted gold wire on each wrist and upper arm. Bracelets are an accessory that suits everyone. There are varieties of gold bracelets designs available these days.
Popular Bracelets Styles
A length of chain can be worn around the wrist as a bracelet in any number of attractive styles. But there is an assortment of other bracelets styles to choose from – some set with gems, some showing off the beauty of precious metal. Some bracelets, like the chain bracelet, are flexible. Some are rigid. Your style statement will be made on the basis of a good-looking and modish bracelet which adds extra glamour to your outfit.
Bracelet is one of the fine jewels which should never be missing from the jewellery case of a woman. A bracelet is an elegant, versatile and timeless piece of jewellery which symbolizes the class and elegance in the most superior manners. Today, most people wear bracelets on their wrists, although arm bracelets and ankle bracelets are available. Both men and women wear chain bracelets, though many bracelets styles are for women only. Stainless steel bracelets are now in fashion as well.
Gold bracelets have been in fashion since a long time. Gold bracelets and bracelets designed out of precious metals and their alloys are very enchanting and are best suited for formal occasions. Gold bracelets designs can also be worn with gemstones, diamonds or even birth stones. Such bracelets may be expensive but they definitely prove to be a gainful deal in the long run.
Diamonds are considered as the symbol of eternity and endless love, therefore they are one of the most popular choices to use during any occasion. Diamond helps in increasing the sparkle of the outfit by adding a feel of elegance and sophistication to the entire look. It is said that a women's best friend is diamond and hence the best choice to celebrate your wedding is to wear a dazzling and astonishing diamond bracelet.
Cuffs and bangle bracelets are examples of stiff bracelets. Cuffs are wide or narrow C-shaped bands that fit over the wrist or arm. Popular with the old times, they are often brightly polished, plain metal bands these days. They can also be set in gemstones or else decorated.
A bangle bracelet can be circular or oval. However, sometimes the outer side of the bangle is an angular shape like a square. Gold bracelets are the perfect evening and day jewellery pieces which adapt as simply as a formal elegant evening attire as they do to the regular outfits. With their simplicity along with their highly stylish craftsmanship, every piece of ladies gold bracelets is an undisputed champion of modishness, grace and charm.
Bangles like cuffs, can be complex or plain, gem-set or without gems. Sometimes women wear several bangles "stacked" together. Using gold bracelets containing diamonds is the best choice. These online gold jewellery bracelets are available in the range of 9k, 14k and 18k. Whether you choose bangles made of silver or gold, or bangles studded with diamonds, these are all lightweight and can be worn all day long. For the perfect party look, complete your get up with an elegantly designed bracelet.