Your clothes represent your style; there is no doubt in that. While some girls like the quirky, cool style others may want to stick to comfortable and elegant outfits. Every person has different personality and sense of style. No two people have the same body type to flaunt the same kind of dresses, especially when it comes to party wear dresses.
Whether you want to be the highlight of the party or make other jealous silently, you need to find a party wear dress that completely defines your personal style and nonetheless complements your body type. The first step is to determine your body shape.
Are you curvy, slim, voluptuous or tall and slender? Being more specific, do you have apple, pear, wedge, rectangle or hourglass body type?
Now that you know, we will find out the dress styles that will fit your figure the best!
We have curated the list of some party-perfect dresses for women that are appropriate for women with different body types. Here you go –
1. Boat Neck Silhouettes For Triangle Body Shape
Body traits: You are a triangle or wedge-shaped if you have broad shoulders with the narrow hip area. This body type is actually an inverted triangle.
Your best feature: Legs
Your dress goal: Boat neck skater dress
To flatter your body type, you need to keep the focus on shoulders and arms, so the boat neck dresses or off-shoulder ones are the right picks for you. For accessorizing the outfit, opt for long neckpieces and platform heels for a modish twist. Keep your hair tied to flaunt the boat neck dress. All the eyes will be on you for sure.
2. Midi All The Way For Rectangles
Body traits: The waist, hip and shoulder are in the same line with similar width
Your best feature: Your arms and legs
Your dress goal: Show off slender body type in a midi dress.
A midi dress is one which is essentially of knee-length or more and looks very adorable on the rectangle shaped women. It accentuates their best feature which is legs and arms. Pair your midi dress with a belt to add some definition to your waist. Go for a belt that clinches the waist to add little curvy feel.
See Also: Must Have Dress Styles for a Fashionable Summer!
Also, wear skater skirts or tulle skirt to add dimension to your waist and hip area. Accessorize with sling bag to add length to your body and peep-toes to complete the classy look. Take cues from the retro era for styling a midi dress like wearing a pearl neckpiece and cat eyeliner.
3. High-Lows Rock on Pear Body Shape
Body traits: Lower body is wider than the upper body
Your best feature: Your torso and shoulders
Your dress goal:Scoop-neck dresses with high-low style for maximum impact
You need a high-low dress that will emphasize your waist and cover up the lower body area giving it a curvy twist. The hemline will slim down your hips and thigh area and it will look really striking as well. You can also opt for tulip skirts and an off-shoulder top. Oversized tunic dress is also a great option for pear shaped women.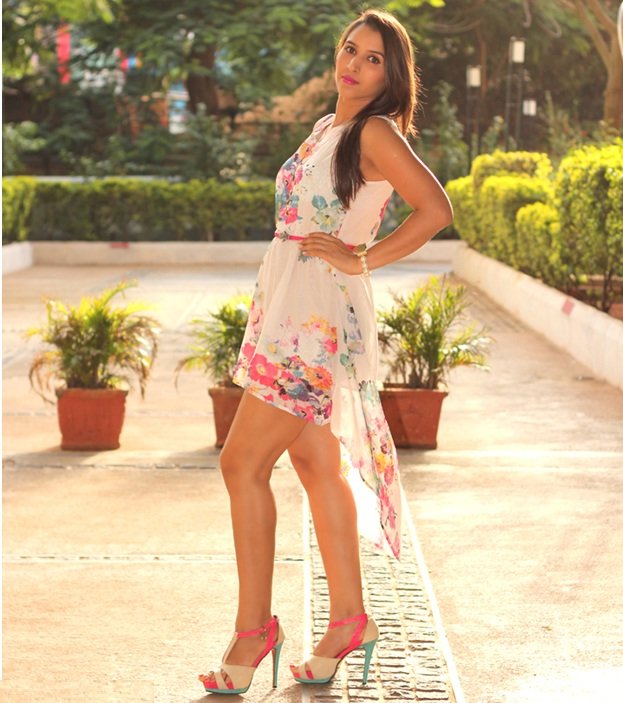 4. Flowy Gowns For Apple Body Shape
Body traits: Broad shoulders and ribs. Most of the weight is concentrated over hips
You need to show off your torso, taking away the attention from shoulders and concentrating on elongating your look to add length to your body. Try flattering and flowy gowns and pair it with a crop jacket to take the attention away from mid-section. Gowns and maxis are the staples for apple body types. Pair them with flat shoes for a casual look.
Related: Mixing Prints: Clash or Class?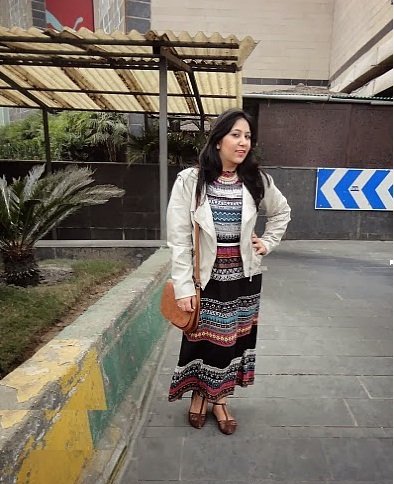 5. A-line For Hourglass Shaped
Body traits: Your hips and shoulders are in same proportion
Your best feature:Your curves
Your dress goal:A-line dresses or wrap dresses are your best companion.
Balancing the curves is the key to rock an hourglass shape. You are blessed with curvaceous figure and it is best to flaunt that in an A-line dress. A wrap dress will also accentuate your waistline and add dimension to your torso. Further, you can accessorize with belts to show smaller waist. You can wear any one piece dress yet avoid very short dresses or boat necks.
By knowing the right body type, you will rock any dress for any occasion. Your personal style will be the reflection of your body type. If you will wear anything that doesn't flatter your figure, it will look ill-fitted. So it is best to choose a dress that highlights your best traits.
Save