While hot tubs can be a source of relaxation and therapy, there are some potential risks when it comes to enjoying your warm waters. Once you understand these risks you can continue to use your hot tub safely. Continue to read this article and you will discover some of the hazards that can be associated with hot tubs.
Keep It Clean
If your water is untreated, you risk bacteria and viruses growing in your hot tub's warm water. Be sure to regularly check-in on your hot tub's sanitizer and pH levels. Then adjust them accordingly. Always make sure to clean your hot tub filter on a regular basis as directed in your owners manual.
Hot Tub Chemicals
When you store your hot tub chemicals, you will want them in a dry, secure, and well-ventilated place. They should also be out of reach for children and animals. Your hot tub should come with instructions on the proper hot tub chemicals to add, be sure to read these directions carefully. For example, you should never mix chemicals unless it is explicitly said. You should only add any chemicals to your hot tub while it is not in use and there are calm weather conditions. Strong winds can splash chemicals into unintended places. While pouring chemicals, protective clothing should be worn and you should wash your hands following use.
Suction Covers
It is common for the older hot tubs to have covers with not enough suction, this can lead to trapped clothing and hair. This makes these covers dangerous, especially for children. Covers need to be VGB compliant, especially for hot tubs older than 30 years.
Drugs, Alcohol And Health Issues
While you are in your hot tub avoid alcohol and drink it later. When bathing in the hot waters you may experience an increase in the effects of alcohol. This can lead to overheating, drowsiness, and dehydration. To stay hydrated and keep proper body temperature, drink cold water while bathing. If you are taking prescription drugs or you have a health condition like diabetes, blood pressure issues, heart disease, or pregnant, discuss with your doctor if you are able to go hot tubbing.
Electricity
When it comes to electricity and hot tub safety, you should make sure your tub is properly wired, grounded, and have a ground fault circuit interrupter (GFCI) disconnect box that is easily accessible and at least 5 feet away from your hot tub. You should not use extension cords with your hot tub, nor have it near any power lines. Electrical devices such as stereos and radios should also not be used near the hot tub. If you are using a wet vacuum to clean, make sure you have rubber soled shoes, your hands and feet are dry, and you are not standing in any pools of water.
Children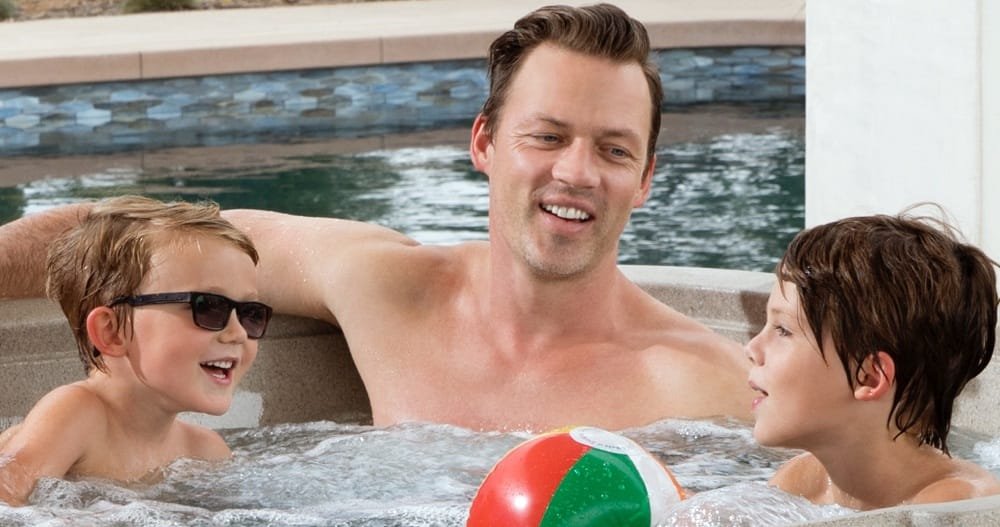 Children should never be left unattended in a hot tub. Children can also be more sensitive to the hot waters. Which means they should limit their hot tub time to 5 – 10 minutes. When children are using the hot tub, they should use high seats, so they are never fully submerged.
Surrounding Area
In order to have a safe floor area, you will want floor materials that make it easy to walk on slippery surfaces. Rubber mats are a good choice because they can improve grip, even on chronically slippery surfaces. Once your surfaces are installed make sure it has proper drainage and does not drain into the pool. Lastly, another way to help those maintain balance is by installing handrails to prevent falls.
Hot Tub Protection
In some municipalities, you will be required to install a fence around your swimming pool or hot tub. This prevents curious children from falling in unintentionally. Confirm your local bylaws to make sure you are always within the code. Also, your hot tub cover should be lockable and appropriately fitted to your hot tub. This can prevent any children or pets from accessing the hot tub. Kids should also not be allowed to play on top of the hot tub cover, this is a hazard.
Other Safety Tips
Lastly, there are a few other tips you can apply to make sure you are always hot tubbing safely. Begin with always hot tubbing with a partner, just in case something happens, you will have one person available to help. No one should be allowed to jump or dive into the hot tub. While a hot tub may appear deep, this can often be an illusion from the water. You should limit your hot tub time to a maximum of 15 minutes before cooling off. When it comes to temperatures, limit it to 104F. However, 100 – 102 F is considered much safer.
Author Bio: Scott Bland has been in the leisure industry for nearly 20 years. As a sales manager in the leisure industry he knows hot tubs inside and out. Right now he works sales while writing about consumer goods on the side. If you want to contact him, you can do so at his LinkedIn.