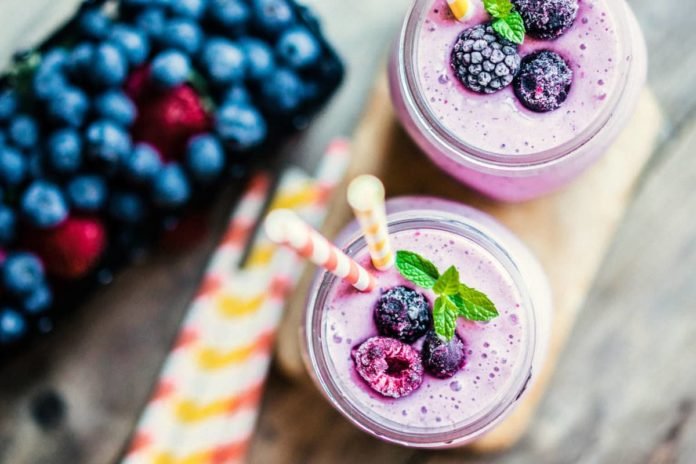 Are you someone who's gotten so bored and sick of your usual protein shake that you sometimes have to force it down? If so, then suffer no longer. Here are some great protein shake recipes to make your workout sessions more exciting.
The Mocha Hazelnut Protein Shake
Right away, this sounds like something that you'd most likely find in an artisanal coffee shop rather than a protein shake bar, but it's actually really easy to make. All you need are the following:
1 cup of hazelnut milk
1 cup of coffee, cold and brewed
2 tablespoons of cocoa powder
1 serving (30 grams) of protein powder
A handful of ice cubes
If this is the first time you've ever heard of hazelnut milk, don't worry. It's very similar to other plant-based milk like soy milk, except with a deeper and tastier flavor profile, since it's made from nuts rather than soybeans. The end result of this recipe, once properly blended and poured over ice, is a delicious and creamy milked hazelnut protein shake that you probably will never get enough of. The best part? Milked nuts are low in calories and has absolutely zero cholesterol, so you can enjoy this shake without any guilt whatsoever!
The Banana Nut Shake
Having a banana before your workout session can easily give you the boost you need to smash some personal records in the gym, so why not incorporate this fruit in your pre-workout protein shake? If the concept tickles your taste buds, then the banana nut shake may be for you. Assemble these ingredients and blend them well together for the perfect workout fuel:
1 large banana, peeled
1 tablespoon of almond butter
1-2 scoops of vanilla-flavored protein powder
8-16 ounces of water
The almond butter may seem strange at first, but trust us; it's going to work with the fast-releasing carbs in the banana to give you that energy uplift you need. Whether you drink it before or after your workout, it doesn't matter – it's still going to get you wired.
The Chocolate and Kale Shake
Kale is one of the healthiest greens around, packing not only a lot of vitamins and minerals but also a lot of antioxidants. This makes it a perfect addition to your protein smoothie, even if it sounds really weird at first. Not only does it make your daily dose of protein a lot healthier, but it actually helps with the taste too. For your shake, blend the following ingredients thoroughly:
2 cups of fresh chopped kale
3/4 cups of almond milk
1 scoop of chocolate-flavored protein powder
½ banana, peeled
A handful of ice cubes
The almond milk will work wonderfully with the chocolate protein powder and the banana to create a creamy, smooth shake, while the kale will help deepen its flavor profile as well as providing it a dose of health-boosting nutrients.
Must Read: Is Whey Protein Better With Milk Or Water?
The Fruit Funk Smoothie
Give your protein shake an exotic yet still healthy twist by using coconut water as its base instead of flat, boring tap water. Not only will it taste better going down, but you'll also be dosing yourself with a healthy amount of potassium—an electrolyte that helps maintain fluid balance in the body, allowing you stay better hydrated during the day. Blend the following ingredients thoroughly before pouring over a few ice cubes:
2 scoops of strawberry protein powder
1 handful of mixed frozen berries
8 ounces of coconut water
One sip of this delicious fruit shake and you'll swear you're drinking something super unhealthy, instead of something that's actually good for you. If you're concerned about the berries because you're cutting down on your sugar intake, don't be: they're part of the group of fruits that are naturally low in fructose, so consuming them even on a daily basis is perfectly fine.
Your pre- or post-workout shake doesn't have to be always boring or dreadful. Use any of the recipes listed above and get the results you need—but in a healthier and arguably tastier way.