Clove shoes is an innovative footwear company that specializes in creating shoes for healthcare professionals. The brand was established when the founder witnessed the physical strain that nursing had on his wife. Understanding the demanding nature of a healthcare worker's job, the founder sought to create shoes that cater to their specific needs.
The ongoing global pandemic has highlighted the tremendous bravery and tireless efforts of frontline workers, who play a critical role in treating patients and alleviating the impact of the crisis on society. To support these exceptional individuals, Clove footwear company has designed shoes that cater specifically to their needs.
Recognized for their innovation and design, Clove shoes have received significant attention from various prominent media outlets, including Forbes, Good Morning America, and Fast Company. In 2020, Clove was honored with Fast Company's Innovation by Design Award, further cementing the brand's commitment to creating high-quality products for frontline workers.
First Impressions Count: A Look at Clove Shoes
I, being a nurse, understand the importance of having comfortable shoes at work. Spending long hours on my feet and constantly being on the go can be hard on my feet. So, when I first heard about Clove shoes, I was eager to try them. I was impressed to learn that the shoes were created with the input of healthcare workers to make sure they meet the specific requirements of our line of work.
After wearing the Clove shoes for 5 days, I was pleasantly surprised at how comfortable they were. Despite being on my feet for a 12-hour shift, I didn't experience any pain in my back or legs like I normally do with other shoes. The neoprene ankles kept my feet stable and prevented any risk of rolling my ankles. The breathable fabric kept my feet cool and sweat-free for the entire shift.
Also Read: Bo Jackson Shoes Review
Discover the Comfort and Style of Clove Shoes: Features You Need to Know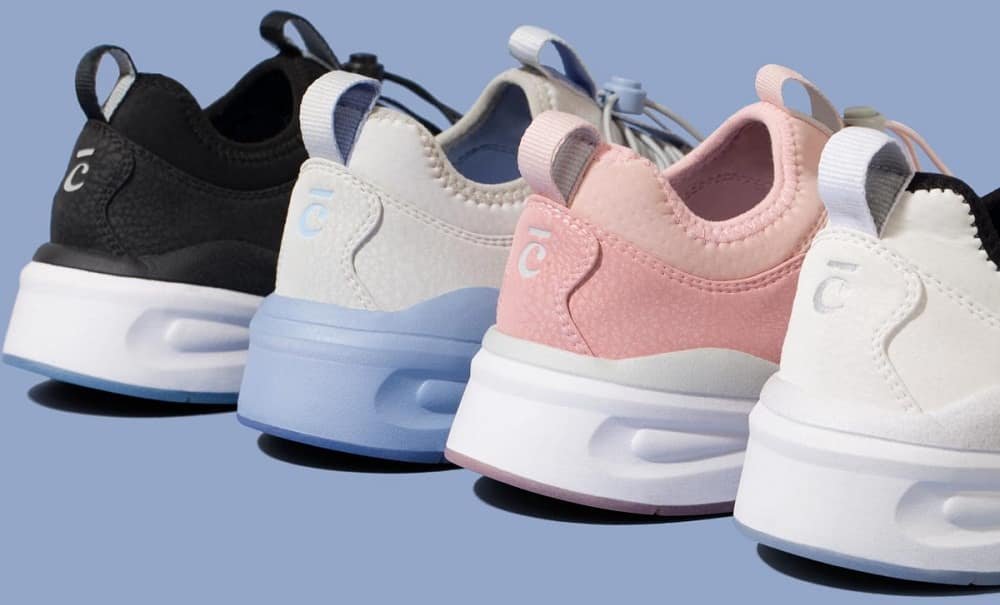 1. Water-Resistant Shoes
Clove shoes are designed with frontline workers in mind, and their water-resistance is a key feature that sets them apart. Working in a healthcare setting, it's inevitable to encounter fluid on the floor, and having shoes that are able to resist this is not only important for safety, but also for comfort. Wet feet can be uncomfortable and Clove shoes provide a solution to this problem.
2. Easy-to-Clean Surface
In addition to their water-resistance, Clove shoes are easy to clean, making them ideal for healthcare workers who need to maintain a high level of hygiene. They are fluid-repellant and can be easily cleaned with a wipe, and remains protective, yet breathable. This combination of cleanliness and protection is not easily found in other shoes, making them perfect for the healthcare environment.
3. Stylish and Simple Design
Clove offers a simple design, with just two versions for men and women. The simplicity of the design makes it easy for healthcare workers to choose the right shoes for them without having to navigate numerous style options.
The first thing I noticed about Clove shoes was their stylish design. They come in beautiful colors such as pink, gray, black, and white with fun names like "Night Shift" and "Pink Up". The shoes are stylish yet meet the hospital regulations, which is a great bonus. I was also pleased with the attention to detail in the packaging, including a thoughtful note and extras like pens. The colors are muted and blend well with most scrub colors.
4. Comfort and Durability
In addition to their stylish design, Cloves shoes are also equipped with several unique comfort features. Clove shoes provide a high level of comfort, with a marathon-like design and Ortholite high-performance sole inserts that are designed to fight and resist odor. The shoes also have three layers of cushioning for foot support, neoprene ankles for stability and compression, and are very breathable. The full rubber sole provides excellent grip and traction, even on wet floors, ensuring that your feet stay comfortable throughout your shift. The sole inserts are washable and easily restored to their original state.
5. Functionality
Clove shoes are designed specifically for nurses and other healthcare workers, and their functionality is one of the biggest advantages. They are easy to slip on and off, simple to clean, and the laces are made to be usable. The sole inserts are washable and the full rubber sole provides excellent grip. While they may not be the most stylish or comfortable shoes, they offer the best combination of qualities for frontline workers.
Is Cloves Shoes a Smart Investment?
The answer is a resounding yes! Clove shoes are a hit with customers who are impressed with their comfort, durability, and sleek design. The brand has received a lot of positive feedback and many people would recommend Clove to others.
These sneakers are specifically designed to tackle challenging working conditions, like dealing with spills or wet floors. Despite a few concerns regarding style preference and sizing, the overwhelming majority of buyers are satisfied with their purchase.
If cost is a concern, Clove has several options to make the investment more manageable, including Affirm payment plans and a flexible return and exchange policy that allows for full refunds.
Not only are customers raving about Clove shoes, but the brand has also garnered attention from several notable media sources. So, whether you're in need of a reliable pair of walking shoes or you're a healthcare worker facing a grueling shift, Clove has got you covered.
Conclusion
In conclusion, I would highly recommend Clove shoes to anyone in the healthcare field. They are designed with the needs of healthcare workers in mind, and they offer comfort, style, and practicality. I've already told my friends and coworkers about these shoes, and I know they won't be disappointed.