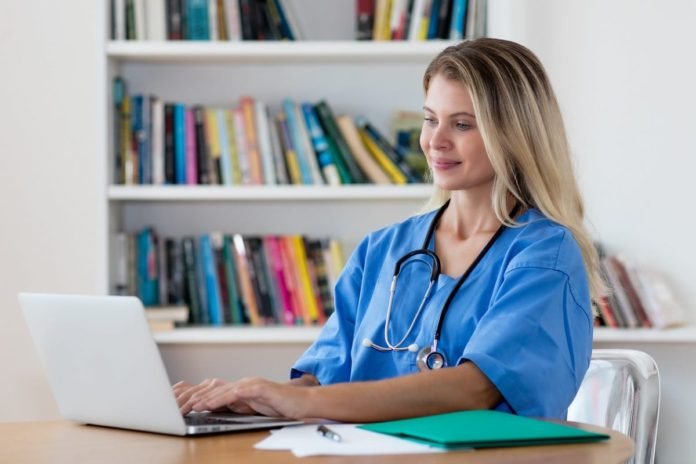 As we begin a new year, you may well be thinking about making some resolutions or contemplating goals that you want to achieve either in 2021 or over the next few years. Maybe you have been thinking about learning a new language, getting fit, increasing your cooking skills, or taking up a musical instrument. Perhaps you want to spend more quality time with your friends and family.

For many people, however, January is a good time to think about job aspirations and the next steps in your career. Thinking about nurses specifically, or those who are interested in moving into the field of nursing, enrolling on one of the many DNP online programs (doctor of nursing practice) available and training as an advanced practice registered nurse (APRN) is a fantastic option.
This specialist role requires a graduate-level education but enables those who are qualified to take on more responsibility and enjoy a correspondingly higher salary and level of autonomy. The possibilities that are open to you as an advanced practice registered nurse are very broad – as you will see later in this article – with plenty of opportunities to specialize in an area of nursing that interests you the most.
This post will cover the position of an advanced practice registered nurse in more detail, as well as the advantages of becoming one. It will also look at the DNP online programs you can take to get you started on this career path, including what to expect when you study one and the other job roles they can lead to, to help you decide whether this is the right option for you, whether you are starting your nursing career and planning for the future, or you're ready to take the next step.
What is an Advanced Practice Registered Nurse?
An APRN is a highly skilled nurse who has completed either a master's or doctoral-level degree in nursing. They tend to be specialized in one of four main roles:
Certified Registered Nurse Anesthetist
Certified Clinical Nurse Specialist
Certified Nurse Midwife
Certified Nurse Practitioner
They can take on more complex cases compared to registered nurses (RNs), with greater levels of independence in how they handle their work. In addition to the four roles mentioned above, there are six patient population groups that APRNs can choose to focus on:
Family / Individual Across Lifespan
Gerontology
Neonatal
Pediatrics
Women's Health / Gender-related
Psychiatric / Mental Health
Further to those six population groups, there are other spheres of healthcare that APRNs can choose to focus on while they study for their master's or DNP online programs, such as oncology or emergency care. This means that as an APRN, there is a lot of scopes for you to dedicate yourself to the area of healthcare that particularly interests you.
Advanced practice registered nurses can work in various healthcare settings, including hospitals, long-term care facilities, private practices, outpatient facilities, and clinics. They often work in partnership with other healthcare professionals, such as physicians, to provide their patients with the best and most appropriate healthcare for their individual needs. According to their specialty, the exact authority an APRN has varies from state to state, but generally speaking, they can diagnose and treat a range of health conditions, oversee cases, and sometimes even prescribe medication.
What are the advantages of becoming an Advanced Practice Registered Nurse?
There is a whole wealth of advantages to be had from taking nursing master's courses or DNP online programs and becoming an advanced practice registered nurse. Firstly, there are the increased levels of employability it brings. According to the US Bureau of Labor Statistics, overall employment for all the different APRN roles is set to grow at a much faster rate than average due to the increased demand for healthcare services – in particular, due to the country's aging population.
As an APRN, there will also be a greater variety of jobs available to you, and with these advanced roles comes an increased salary. Those who complete DNP online programs or on-campus courses will benefit the most from this, as a DNP is the highest clinical focused qualification available to nurses and opens doors to the highest job roles.
For many people, one of the greatest advantages of becoming an advanced practice registered nurse is the greater independence, responsibility, and autonomy it grants you at work. This, in turn, enables you to do more to help your patients and the local community, enhancing the feelings of reward and fulfillment you find in your role. Plus, it can also allow you greater flexibility to choose your own hours and days of work and the location you work from because APRNs are in such high demand. With so many career opportunities available to you, you can tailor your job to suit your lifestyle and interests.
What kind of person makes a good Advanced Practice Registered Nurse?
In addition to having the motivation and academic skills to complete the necessary nursing master's courses or DNP online programs to become an Advanced Practice Registered Nurse, there are many personal qualities and traits you will need to succeed in the role. Of course, a lot of these are the same attributes that are required to become a nurse in the first place but demonstrated at a higher level.
For example, you will be working with patients, and other healthcare staff from a wide variety of backgrounds, so strong communication and interpersonal skills are a must. This is particularly true when explaining complicated medical topics to people with no background medical knowledge. Compassion, respect, integrity, and empathy are, of course, all a must, enabling you to relate to those in your care and look after them to the best of your abilities. At the same time, it is important to have emotional stability, not to get too affected by the stressful aspects of the job, or let difficult cases impact your own mental health.
In addition to this, you will also need excellent attention to detail, as you'll be working with complex patient notes and precise dosages of medication, where a mistake can have potentially devastating consequences. APRNs must also be flexible enough to deal with unexpected or emergency situations as they arise, with great problem-solving skills. Many nurses find this a positive aspect of the job, as no two days are ever the same.
As nurses deal with lots of different patients, organization and time management skills are vital – plus knowing when to delegate tasks. Finally, do not forget that nursing can be a tiring job with long hours spent on your feet, so you need to stay in top physical health to enable you to do so while maintaining an enthusiastic and optimistic attitude! Eating healthy, taking regular exercise, and getting enough sleep each night will go a long way in this respect.
When it comes to traits that are relevant for advanced practice registered nurses, in particular, two of the most important ones are critical thinking and leadership. Of course, you have to be a great team player, but as an APRN, you will be taking on more responsibility and making key judgment calls independently. This goes hand in hand with having confidence in your own decisions but knowing when to ask for help or refer patients to other healthcare specialists. Do not worry if this all sounds overwhelming, though, as completing DNP online programs helps you develop and strengthen these key skills in preparation for taking on an APRN's role.
How do I become an Advanced Practice Registered Nurse?
If what you have read so far has inspired you to get started on the path to becoming an APRN, that is great! The exact steps you will need to take will vary according to the qualifications that you already have, but here is a rough overview:
Complete an advanced nursing degree. This could be either a master's in nursing (MSN) or a doctor of nursing practice (DNP). The latter is a higher level of qualification, meaning that it will open up the most job opportunities for you. Normally to enroll in DNP online programs or on-campus courses, you will need to already have your MSN, but some programs let you combine the two degrees into one.
Undertake the required number of clinical hours. This enables you to put what you have learned into practice in a real-world setting and gain the necessary professional competencies to fulfill an APRN's role successfully.
Pass a national certification exam. The exact examination you will need to sit will vary according to your chosen area of specialization, but it must be one run by an accredited organization.
Apply for a license in the state that you wish to work in. In addition to your registered nursing license, you will need an APRN license – check your state's board of nursing to determine your area's details.
What can I expect from DNP online programs?
Assuming that you want to take your career to the highest level, studying for a DNP qualification is the best choice. The course is offered at colleges all across the country (and the world), with options available for both full-time and part-time study as well as on-campus and distance learning. DNP online programs are particularly well suited if you want to study alongside your current job or existing family commitments.
When studying for a DNP, you can expect to complete a mixture of core courses, clinical hours, and an independent research project on your choice's relevant topic. The specific modules you take will vary with the institution, but the sort of areas you can expect to cover include:
Nursing Leadership Role and Ethics in Complex Healthcare Systems
Healthcare Economics
Healthcare Technology and Data Management
Research Methods and Evidence-Based Practice
Health Promotion
Nursing Informatics
Moving Healthcare Forward
Achieving Population Health Equity
The Business of Healthcare
The clinical hours can be completed at a location near where you live or study, and you can expect to do around 1,000 hours. Your college will help you to find a suitable clinical site to work at that aligns with your chosen specialization – for example, a hospital, community clinic, or private practice – so that you can focus your attention on your studies.
The DNP project, on the other hand, is a more academic piece of work, which aims to investigate a real-world clinical or administration-based problem of your choice. This is your chance to dive deeply into a topic that you are passionate about and potentially make a valuable contribution to both the academic field and your local community.
What other careers can DNP online programs lead to?
While we have been focused on the advanced practice registered nurse roles here, this is not the only option open to those who study DNP online programs. For example, you could opt for a non-clinical role that focuses on indirect patient care instead. These enable you to use your advanced knowledge and skills to improve healthcare at an institutional level in an executive leadership or management role such as chief nursing officer. This might involve designing and managing patient care processes, overseeing nursing staff, creating budgets, or developing organizational procedures.
Another option is to work in nursing informatics. This is a more modern job role that involves using computer science and information science alongside nursing expertise to improve the health of individuals, families, communities, and populations. Alternatively, you could become a clinical trainer and help design curriculums, educate the next generation of nurses, or move into clinical research and study an aspect of healthcare you are passionate about.
Finally, there is always the option to use your DNP in a more political sphere. This could be by lobbying legislators to make changes to healthcare policies, develop healthcare policies yourself, sit on relevant task forces or committees, advocate for the nursing profession, or advocate for social justice and other ethical issues related to nursing. These sorts of roles allow you to transform the future of nursing and healthcare more generally and make a lasting difference to society.