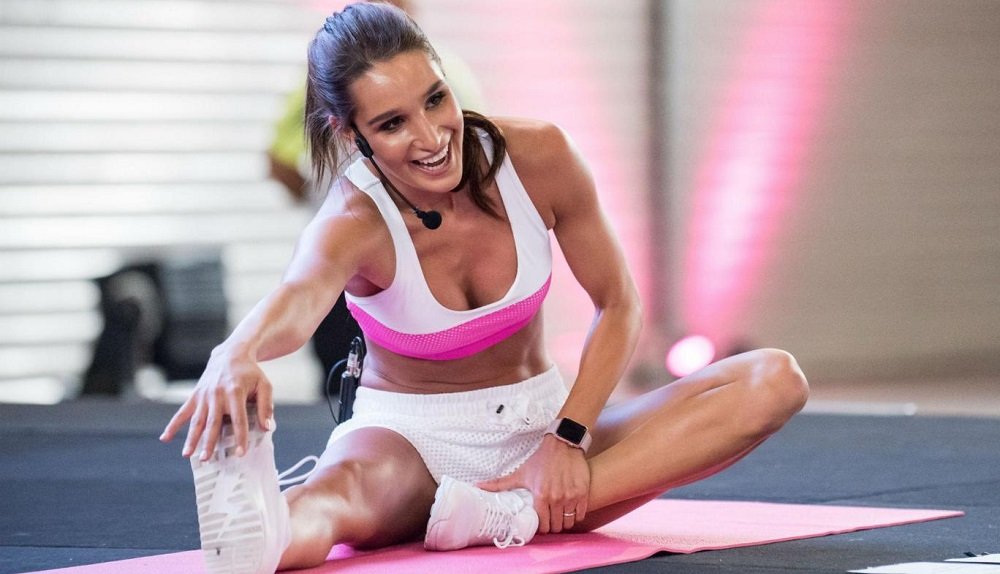 Does Sweat With Kayla app really work?  Well it'll certainly make you sweat. Or at least I do every time I used the Kayla Itsines app.
I take out my phone and pull up the app. It is sleek and well designed. I look at today's workout and begin.
If you don't know what Sweat with Kayla is, visit this site to learn more about Sweat With Kayla workout app.
It immediately starts after a short countdown and I'm off. I push through my first circuit of tricep dips, mountain climbers, and lay flat pushups.  The in-app timer buzzes.
I take a gulp of water and launch into circuit 2.  I keep going through the circuits. My heart races, sweat drips off my brow onto the mat, and my muscles burn with each repetition.  The final timer buzzes. I'm done. Wow what a workout!  My muscles will hurt for days!
If my muscles could talk, they'd tell you that Kayla's fitness app really works.  But alas they can't talk, so I'll just have to tell you why it works.
But first let's review the highlights of Kayla Itsines workouts.
Sweat With Kayla App Review
Personal trainer and internationally known fitness sensation Kayla Itsines is a highly successful business woman.  She has built her business by capturing her experience and translating it into a set of downloadable eBooks and now the fitness app.
The Kayla Itsines workout original products were the Bikini Body Guide series. The set of three ebooks includes Bikini Body Guide 1.0, Bikini Body Guide 2.0, and the nutrition guide. Each is a set 12-week guide to either working out or eating right.  They are meant to be purchased as a bundle so the user can combine diet and exercise.
Recently launched Sweat with Kayla is Kayla Itsines App designed to take the Bikini Body Guide workouts to the next level.  It offers global challenges, built in timer, and workouts for weeks 25 and higher.  This is all in addition to the tried and true Bikini Body Guide features of 28-minute workouts, meal suggestions, and a step by step path to achieving your bikini body.
Kayla Itsines' workouts have been propelled into the spotlight by the 5.7 million+ loyal fans she has Instagram.  Fans post before and after photos so impressive that they become viral testaments to the app's results.
So what do the users say? Does it really work?
Sweat with Kayla Features;
Before we answer those questions, let's look at what tools the app has to offer.
This fitness app provides users with a mobile-friendly version of Bikini Body Guide.  It offers workouts and nutrition help on the go.  No more carrying the printed PDFs to the gym.
In addition to the standard BBG elements, the app provides a few new features. Below are some of the apps top features:
Short 28-minute workouts featuring resistance, cardio and rehabilitation exercises
Built in workout timer
Customizable meal plans with healthy recipe suggestions
Progress tracker including a private photo journal
Global Fitness challenges
Education materials on topics such as nutrition and injury prevention
Access to BBG 3.0 (weeks 25 and higher)
It is clear that the editor review of the app was right. It is certainly "packed with everything that's made her Bikini Body Guides an international success" plus a few new upgrades.
Does it work?
Now let's get back to the question at hand.  Does Sweat With Kayla really work?  Yes, it does.
With the overlapping content in mind, it is unsurprising that the results are similar to Kayla Itsines Bikini Body Guide ebooks.
Kayla crafted her latest mobile fitness app after years of experience perfecting her Bikini Body Guide products. She finally decided to take her successful program mobile and the results are unbeatable thanks to a combination of reliable components.
Below is a short list of reasons why Sweat with Kayla works. I'll go into more detail on each point later.
The Sweat with Kayla app work because:
It promotes grouping diet and exercise together into one seamless plan
It includes details steps that break down the workouts & meals on a daily basis
The types of exercises are intentionally varied
Exercises gradual progress in their level of difficulty
The workout planner lets you plan up to two weeks of workouts and adds helpful reminders to your calendar.
The meal planner lets you plan up to two weeks of meals and suggests healthy options
It provides a positive, supportive community of online users
Now let's look at each of these reasons in more depth.
Kayla Itsines App Main Benefits
First, the program utilizes a combination of exercise and nutrition.   This united method is routinely recommended by health professionals.  Pairing diet and exercise optimizes the effects of each in a simultaneous manner.   That is one of the reasons Kayla Itsines app works so well.
Secondly, it breaks down each day into a clear, detailed steps.  The user sees everything day by day so they should have little trouble understanding their daily instructions. There is little room for confusion.
Next, the exercises are designed in such a way to encourage your body to continuously improve by alternating the types of exercises.  Varied exercises assist in combating the plateaus common for exercisers who repeatedly complete the same exercises.
The Sweat with Kayla exercise program is graduated.  The level of difficulty begins relatively low and each week the workout gets progressively gets harder and harder.  The gradual nature of the workouts helps clients build up their strength in a safe, healthy manner that seems to motivate people to keep going with the program.
All of these workout features are accommodated in the workout planner.  The planner lets you strategize on the next two-weeks of workouts.  It even adds helpful reminders to your personal calendar.  This mixture of exercise features helps the Sweat with Kayla app to succeed.
Additionally, app's meal plan provides options for a few dietary restrictions and offers new recipes each day.  The two-week meal planner and shopping list creator allows clients to plan ahead.  This not only helps guaranteed that clients plan while at their best, but it gives users a playbook of what to do in the heat of the moment.  In other words, it eliminates harried, last-minute meal decisions.
Finally, Kayla Itsines has surrounded herself with a positive online community.  Utilizing her group of followers, she has managed created a supportive atmosphere that encourages Sweat with Kayla users to continue towards their weight loss goals.
Together these factors make up the reason why the Kayla Itsines app works so well.   They are also the reason why Kayla Itsines has millions of followers – many of whom boast notable weight loss results thanks to Sweat with Kayla.
The Verdict:
Does Sweat with Kayla app really work?  Yes!  It'll certainly make you sweat – just ask my muscles again.