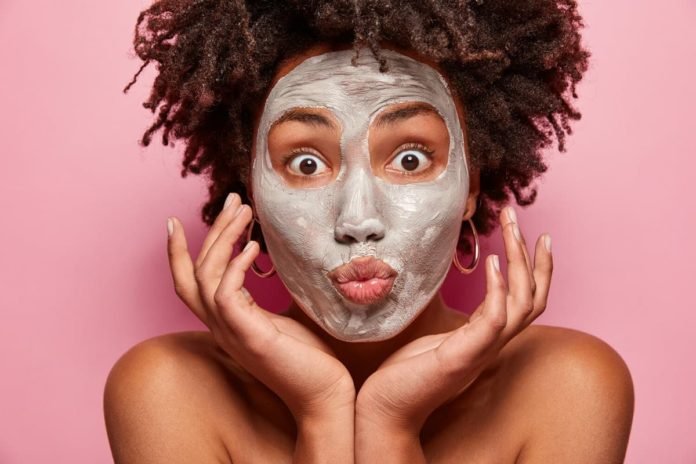 There is the golden rule for great-looking skin that we have talked about quite extensively in the last month or so. The rule is rather simple – clean, tone and moisturize every day. Also, once or twice a week, exfoliate and apply a facial mask. Of course, drinking a lot of water, exercising, eating healthy and sleeping enough goes without saying. Today, we are talking about facial masks, their benefits and the best / incredibly easy-to-make recipes for DIY facial masks for aging skin.
So, what are the main things you need to know before you actually put a facial mask on? First and foremost, you need to determine your skin type. A facial mask containing lemon juice is ideal for oily, acne prone skin, but best avoided if you have dry, chapped or sensitive skin. Secondly, make sure that you apply a facial mask only on clean face. Thirdly and preferably, have a light facial scrub before you apply the mask to clean out the pores and make the skin more absorbent. Lastly, never put a mask around the eye area!
The reasons for using facial masks on a regular basis (that is once or twice a week, depending on the state of your skin) are numerous. They are cheap, easy to make, deliver fantastic results in a very short time span, and will give you tight, toned, smoother, more balanced and all around healthier skin. They will also give you a very deep cleansing, unclog pores, and boost your overall skincare regimen. Since we are passionate advocates of anything and everything natural / fresh / organic, our recipes for facial masks include only natural ingredients that you probably have in your home. Here are our favorite recipes for best face mask for aging skin.
1. Banana
Banana has been called the natural Botox for its skin tightening and refreshing properties. It is also packed with vitamins and nutrients that get rid of dark spots and blemishes, reduce dryness, lighten the skin, reduce the appearance of wrinkles, fight free radicals, and bolster skin's resistance to UVA and UVB rays. The following recipe is suitable for all skin types. All you need is a medium-sized banana which you should mash into a pulp with a fork, add one teaspoon of honey and one teaspoon of lemon juice and mix all the ingredients. Apply to clean face and wash after 15 minutes with warm water. Moisturize if required. The honey in this mask will eliminate the bacteria, and avert acne and pimples, while the lemon juice will even out the skin tone and diminish dark spots. Another variation of this mask is using ¼ cup of ordinary yogurt instead of lemon juice if you have sensitive skin. Yogurt is also great for red, irritated, chapped or sunburned skin.
2. Oatmeal, honey, egg, olive oil
This mask will super-charge your complexion particularly if you have oily skin. It is full of fantastic ingredients that are guaranteed to leave your skin glowing. Just mix one egg yolk, 1 teaspoon of honey, 1 teaspoon of olive oil (organic, cold pressed if you can get it), and half a cup of oatmeal. Apply it to your face and leave it on between 15 and 20 minutes. Once the mask is dry, rinse with warm water and moisturize. Just make sure that, before adding honey, egg and olive oil to the mixture, you leave the oatmeal to soak in hot, not boiling, water for about three minutes. This mask is a quick pick-me-up for your skin and you'll love how instantaneous the results are.
3. Strawberry
This fruit is very effective in combating acne, whiteheads and pimples. It is a natural source of salicylic acid which is found in most anti-acne products. Salicylic acid is a BHA (Beta Hydroxy Acid) that is commonly used to treat non-inflamed acne. Almost all skincare products – from lotions and moisturizers to cleansers and medicated treatment pads – contain BHA. Strawberries are also great for dull, sensitive and damaged skin. They are packed with Vitamin C (a natural anti-aging compound) and healthy antioxidants. They also contain Folate which stimulates production of new skin cells. One of our favorite masks has the following ingredients: eight or nine fresh strawberries, two teaspoons of honey, one teaspoon of oil (olive, jojoba, grape seed or almond) and a few drops of fresh lemon juice. Add about eight drops if you have dry skin and about a teaspoon of lemon juice if your skin is oily and acne prone. Mix the ingredients, apply the mixture to your face, leave it on between five and seven minutes, and rinse with water. Apply moisturizer.
4. Aloe Vera and Lemon Mask
Aloe vera's vitamin and mineral-rich gel deeply nourishes and hydrates skin. It does so in two ways: firstly, it's able to penetrate the epidermis to nourish the dermis and hypodermis. Secondly, it captures water droplets in the air, harnesses them to our skin, and prevents them from evaporating. In short and simple words, aloe vera works wonders on dry skin!
This one is great for reducing blemishes, minimizing acne scars and evening out the sometimes blotchy appearance of tanned skin. All you need to make it is some aloe vera gel and lemon juice.
Combine 2 teaspoon of aloe vera gel and the juice of half a lemon in a bowl. Mix it thoroughly until the lemon juice is completely blended into the gel. Apply it to your face evenly and leave it on for 10 minutes. Rinse off with lukewarm water and pat dry.
If you are looking for a brand that is environment friendly, have natural ingredients, and is cruelty free, go for Iroha Nature. The ingredients of the aloe vera face mask is biodegradable and is free from allergens. This mask can be used on all skin types, the dry, oily and sensitive skin as well.
5. Yogurt
This breakfast staple is also a great all-around skin tightener, smoother and purifier. Please don't use fruit yogurts for facial mask but rather stick to plain Greek yogurt. Yogurt contains lactic acid which is often found in chemical peels. It is great for eliminating blemishes and fine wrinkles while reducing discoloration and evening out the skin tone. Mix one cup of Greek yogurt with two to three drops of your favorite oil (almond, olive, grape seed etc.). Add one teaspoon of honey and leave it on between twenty and thirty minutes. Rinse with lukewarm water and pat dry your face. Again, apply moisturizer if needed. Although yogurt masks are great for sensitive, dry, flaky, chapped or sunburned skin, they are also suitable for all skin types.
6. Avocado
It has been called a miracle fruit by many, including celebrities like Miranda Kerr, Victoria Beckham, Lupita Nyong'o and Kim Kardashian who use it not only in their diet but also as a topical beauty food skin treatment. Avocado is perfect for moisturizing and nourishing your skin, particularly if it has been damaged. It locks the moisture in the deepest layers of the skin and prevents the skin from drying out again while having long-term moisturizing effects. Avocado also has anti-aging properties because it contains plenty of Vitamin A which boosts production of new cells and collagen and it fights free radicals that often result in dark spots and uneven skin tone. Not only that, it is packed with Vitamin B, Potassium and mono-saturated fats. Here are the ingredients for an avocado facial mask. Mix one mashed avocado (make sure that there are no lumps) with one tablespoon of honey, one tablespoon of olive oil, and the juice of a half of an orange (or a raw egg white if you have oily skin). Leave it on for 15 or 20 minutes, rinse and moisturize.