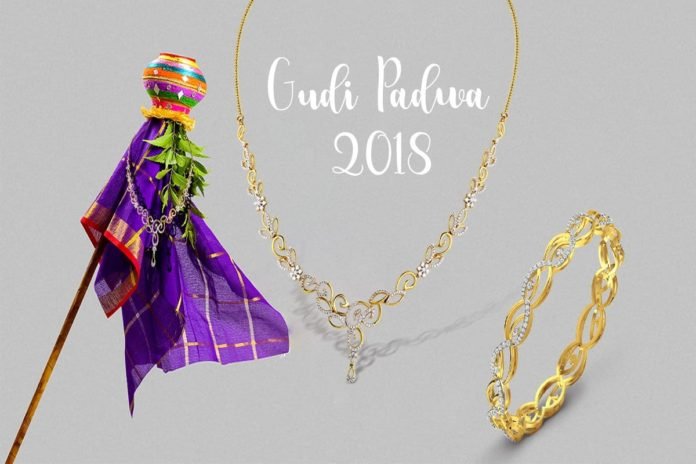 The festival of Gudi Padwa marks the beginning of the Hindu New Year. The occasion, which falls on the first day of the month of Chaitra, is marked as one of the three and a half auspicious muhurats. There are many mythological backings as to why and how the festival is celebrated. One of the belief states that it was on this day that Lord Brahma created the universe. A story also states that the day when Rama gained victory over Ravana and returned to Ayodhya was celebrated as Gudi Padwa. February and March are months when Rabi crops are reaped and the festival marks the beginning of the spring season.
Gudi Padwa 2018 falls on 18th March and we make you familiar with the traditional connotations for you'll to have a head start on its preparations.
1. The Gudi is raised outside your window early in the morning. The base is made of a bamboo stick with a colourful cotton or cloth and is further decorated with mango leaves or garlands etc. A small metal vessel (kalash) is kept in an inverted fashion on bamboo thereby symbolising the ultimate victory.
2. The house is cleaned a day before Gudi Padwa and fresh rangoli is drawn outside the home on the day of the festival. In villages, cow dung is used to plaster the floor and then decorated with diyas and rangoli.
3. Maharashtrian festivals are known for their sweet preparations. Gudi Padwa is incomplete without the classic combination of srikhand-puri.
4. The festival is known by different names in India. In Andra Pradesh and Telangana, it is known by the name of Ugadi and by the name of Cheto Chand in the Sindhi community.
5. There is a tradition to eat neem leaves or a mixture of neem leaves and jaggery to denote that life is a mix of bitter and sweet moments.
6. Women in the house wear traditional Indian gold jewellery with a nine-yard saree. The newlywed bride wears a mangalsutra along with other jewellery. Gudi Padwa jewellery comprises the typical gold bangles and necklace set.
7. It is a ritual to but gold in form of gold coins or festival jewellery which signifies the prosperity. You can buy Lakshmi and Ganesha and Radha-Krishna gold coins by weight at Rockrush. Considering it is one of the auspicious days in the Hindu calendar, buying a new home or car is usually done on this day.
8. The newlywed couple is invited for a meal by the bride's mother, who prepares a variety of delicacies for her daughter and son-in-law.
All in all, Gudi Padwa is one festival which brings a lot of positivity and prosperity. This Gudi Padwa, welcome wealth and success by buying gold coins and gold jewellery from https://www.rockrush.com/, an online jewellery store, which promises purity in every carat.