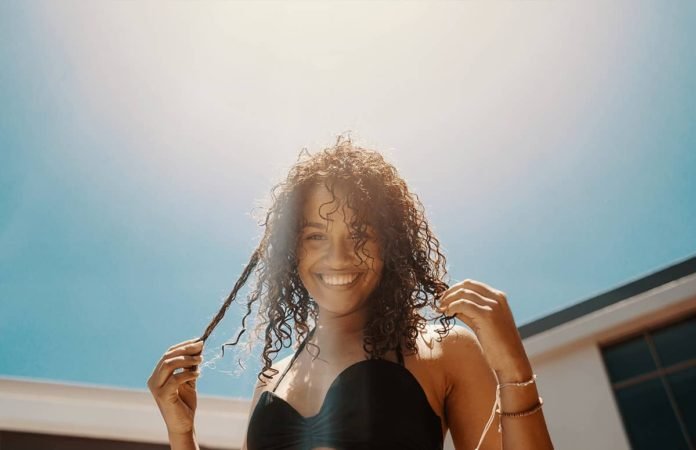 Spring and summer may bring flowers and delightfully warm weather, but they can also bring a slew of hair and scalp issues — from poofy hair to dry sun-scorched strands. Even the most carefully coiffed hairstyles can turn into a frizzy, sweaty mess when Mother Nature cranks up the heat and humidity. The good news? You don't have to let the warm, steamy months wreak havoc on your tresses. Check out the expert tips and tricks below on how to care for your hair this spring and summer.

1. Start with a fresh cut
With colder days officially behind us, it's time to snip off all those split ends that have been ravaged by winter. If you haven't seen your hairstylist in months, make sure you get your appointment in the books ASAP. Getting regular trims is a great way to ensure your strands stay in tip-top shape as we move forward to a new season. Plus, it's an opportunity to breathe new life into your hair (spring is all about new beginnings, after all). Consider experimenting with a daring new cut or a fun pop of color!
2. Choose a gentler shampoo
If your hair tends to feel extra greasy in the spring and summertime, consider switching to a gentler shampoo. While it may seem counterintuitive, using an overly-harsh shampoo strips your scalp of its natural oils, stimulating additional oil production that makes you want to wash it even more.
For a gentler clean, try washing your hair with a solid shampoo bar. Unlike traditional shampoos that often contain hair-stripping sulfates, these all-natural bars tend to use plant-based ingredients to gently remove dirt and grime without compromising your scalp's natural oils. The cherry on top? They're eco-friendly, packaging-free and perfect for all those summer getaways and camping trips you have lined up.
3. Don't skip the conditioner
Hair experts often stress the need for a hardworking conditioner in winter, but it's equally important for the spring and summer. Exposing your hair to too much sun, salt and chlorine can wreak havoc on your strands, leaving them dry and brittle. Plus, dry hair is more susceptible to humidity, so you could find yourself dealing with a double-whammy of dry strands and frizz.
To give your hair the hydration and protection it needs, use a moisturizing conditioner — like a nutrient-packed conditioner bar — after each wash. Specifically, look for a conditioner with plant-based butters and oils, which will help quench your hair's thirst and lock in hydration for a smoother, frizz-free 'do.
4. Wash your hair with cooler water
Ideally, you should be rinsing your hair with cold water year-round. Washing with cold water can go a long way in keeping the protein bonds of your hair intact and comes with a few additional health benefits to boot. But let's be real — willingly subjecting yourself to a cold shower in the dead of winter sounds pretty miserable. In the spring and summer, though, cold showers are much more bearable — and, dare we say it, even pleasant at times. If you can't brave the cold even in the warmer months, you can still do your hair a solid by turning down the temperature.
5. Combat summer sweat with a dry shampoo
Sweating can provide numerous health benefits, but enviable tresses generally aren't one of them. When you allow sweat to air dry in your hair, it can build up on the scalp and clog your hair follicles, resulting in flakiness and irritation. Fortunately, the fix is simple: apply a natural dry shampoo to your roots. Dry shampoos typically use absorbent ingredients (think tapioca starch and bentonite clay) to soak up the extra oils and sweat on the scalp, leaving you with more voluminous and cleaner-feeling hair. Pro tip: To stop oil and sweat in their tracks, apply your dry shampoo before leaving the house or doing a workout. In addition to creating a protective barrier between your scalp and your sweat, this will allow the product to soak up all the extra oils and sweat you produce throughout the day.
6. Give your hair a break from hair styling tools
Your hair is likely already getting pounded by harmful UV rays from every angle. There's no need to add heat damage from hot styling tools to the mix. Instead of blow-drying your hair, consider allowing it to air dry instead (tip: if you have somewhere to be, make sure you give yourself plenty of time for your hair to completely dry). Rather than reaching for a curling iron, try styling your hair in a braid or using rollers to achieve heatless waves and curls. The warmer months are relaxed and carefree — the perfect time to embrace and play around with your hair's natural texture!
7. Pool-proof your hair
After spending all your hard-earned money on a new haircut and color, the last thing you probably want is for it to turn green in the pool. Before you go for a dip, spend a little time pool-proofing your hair. An easy way to do this is by rinsing off in the shower prior to going for a swim. Besides minimizing the number of impurities you might introduce to the pool, taking a quick shower before hopping in the pool helps to saturate your strands with moisture, which blocks chlorine from getting into the hair shaft. Don't have easy access to a shower near the pool? Coating your hair with coconut oil prior to getting in the pool can also help prevent chlorine-related damage.
You don't need to give up your spring and summer fun to have more good hair days. With these easy hair tips, you can keep your hair happy, healthy and chemical-free all spring and summer long!