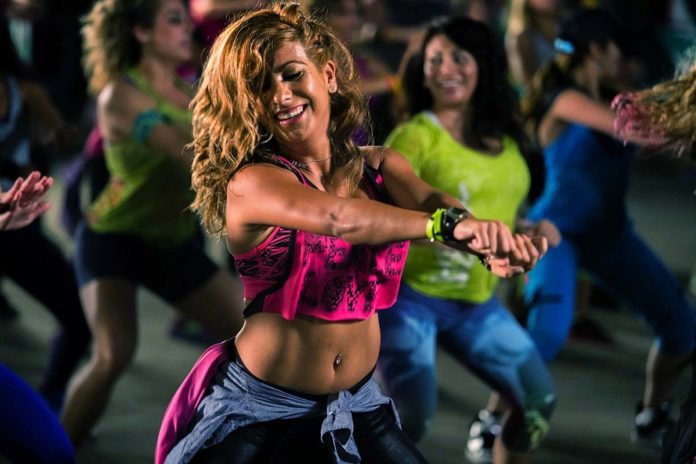 Zumba and other dance-based workouts are all the rage these days, and it's no surprise. Dance classes are enjoyable and fun ways to burn fat and calories, tone your entire body and improve overall coordination. Dancing is so much fun, you may not even realize you're working out, but the results will still show when you fit back into those skinny jeans!
Even though you may forget you're working out, doing it correctly, as with any form of exercise, will help you get the most out of your fitness routine. Here are some tips for making your next Zumba class a real calorie scorcher as well as an absolute blast!
Put Some Oomph into It
There's dancing, and then there's dancing. Almost anyone can master a few simple steps. But there's a huge difference between simply moving your feet and moving your entire body.
Allow yourself to feel the music and get into it. Don't just step forward and back when you cha-cha. Swing those hips! Get your arms into it, letting them flow. Be expressive with your movements! Half the fun is stepping out of your comfort zone and letting your body move with the rhythm.
Try changing levels as well. One of the number one keys to a successful Zumba workout is keeping your knees slightly bent at all times. But that doesn't mean you can't sometimes drop it low or jump it up high. Changing levels activates the big muscles of your thighs, giving you an additional calorie burning blast while really toning those quads and hamstrings.
And don't overly worry about getting the steps just right – focus more on having fun!
Bring Along a Friend or Four
The great thing about Zumba, and other dance-based workouts, aside from their fun appeal to getting fit, is the ability to meet new friends and celebrate older friendships, too! Pretend you and the girls are headed out to the club when you head to class.
Don't forget to reach out to your more inhibited friends too. Going to a Zumba class for the first time can be a bit scary – but it's seriously addictive once you've made that first brave step into the classroom! So even if your timid friend has said, "No," once or twice, don't be afraid to ask again.
Invest in Some Fun Clothes!
Nothing makes working out more fun than a cute fitness wardrobe, and Zumba aims to please in this! There are a huge array of official Zumba-branded clothes out there, and they are super adorable! Or you can just use your new Zumba addiction as an excuse to go on a shopping trip to your local fitness clothing store!
Invest in fun, bright and vibrant colored clothes. Don't stop at shorts, skirts and tops; get some bright, fun hair accessories, socks and even jewelry to complete your look so you can strut your sexy while you work out!
The Right Shoes Are A Must
The right shoes can make or break your Zumba or dance workout. Make sure to invest in a good pair of tennis shoes suited to your body. People with high arches, for example, may need extra arch support; those with bunions may need shoes made to fit a wider width.
Keep in mind that twisting movements while you dance in rubber-soled shoes can injure your knee, foot or ankle. A simple trip and fall from not having the right shoes can easily result in a broken bone. To avoid injury, it's also a good idea to invest in (or make) a pair of Zumba gliders to put on over your shoes. The soft, sock-like fabric allows you to twist easily on any hard surfaced floors, protecting your knees.
Try a New Instructor
Oftentimes, regulars to Zumba or dance-based fitness classes find an instructor they love and stick to them. While there's nothing wrong with being a frequent flier at your favorite instructor's class, why not add a little variety to your routine by trying a new instructor's class now and then?
Every instructor has their own unique flavor and unique moves! And since dance workouts are all about expressing yourself, trying classes taught by different instructors allows you to learn cool new moves to incorporate into your own dance repertoire. This can make classes with your favorite instructor even more fun as you add in your own unique flavor.
Must Read: Do You Really Need a Personal Trainer?
Host a Fun Dance Off
Having a cardio dance party blast doesn't necessarily need to mean a trip to the gym! You can get a great dance workout in, right in the privacy of your own home. This is a great way to ease into dance fitness if you're a bit on the shy side, or it can be a fun way to add variety to your routine when you're super busy or the weather outside is a bit frightful.
For those who like the structure of an instructor-led class without leaving the comfort of home, find a fun app like DailyBurn that works with your computer, TV, tablet or cell phone. There are often a ton of cute dance videos on these apps.
For those on a budget, why not turn on your favorite online playlist and dance? Make it an event by having a dance-off with your roommates, siblings or kids! You'll all have a blast, and burn calories, too! Plus you might encourage others on a fitness journey of their own.
Fuel Your Body Right
As with any workout routine, the right nutrition can take your fitness soaring to new heights! So fuel your Zumba or dance workouts with high quality, low-calorie protein such as chicken or fish, as well as vitamin and mineral rich fresh fruits and vegetables. Avoid processed carbohydrates, and instead opt for fiber-rich whole grains like rye, barley and quinoa.
And don't forget to hydrate, especially during the hot summer months! Maintaining adequate hydration is the key to good fitness. It keeps your skin glowing and energy levels high. So drink up! And remember, once you become thirsty, you are already dehydrated. So be sure to carry your water bottle with you to every workout!
Dance Like No One Is Watching
The entire point of any dance-based fitness class is to let loose, forget the stress of the day and the work week, express yourself and have fun! So don't be inhibited, and don't be afraid to try new things — have confidence in yourself!
Remember, the energy and enthusiasm you bring to the class is contagious! Even the best instructors will have a bit of a lackluster class if the participants seem to go through the motions. So by freeing yourself from your inhibitions and letting yourself loose to just dance, you not only create a better workout for you but for the other participants as well!
So don't worry if you don't know all the moves. Don't stress if the instructor puts on a new song. Instead, just celebrate your body! Smile, do what you can, but remember that your ultimate goal is to have a great time when getting fit. Also, keep in mind that everyone else in the class is too preoccupied with what they are doing to notice if you miss a step or three! So free yourself from your inhibitions, and truly dance like no one is watching to get the most out of your class!
Author Bio: Kate is an online journalist focusing on health, fitness and lifestyle. She is the founder of the women's health blog, So Well, So Woman.