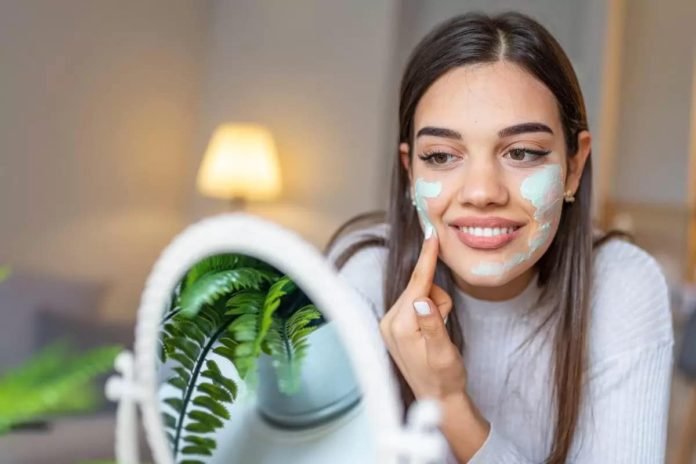 With the new year well under way, we're looking forward to the skincare products and trends that we expect to see popping off in 2023 — and some overdone fads that we're glad to say goodbye to. Here are 15 trends that experts are saying to keep an eye on this year:

Non-Invasive Tweakments
No longer do you need to get poked with a needle or go under a knife to get results: Non-invasive "tweakments" like LED facials will be a big trend in 2023. These treatments are not painful and require basically no downtime, making them easier to fit into a busy schedule, and many of them are more affordable as well.
Prescription Treatments
On the flipside, the FDA will probably be approving a lot of new prescription-strength topicals and prescriptions after multiple years of focusing on more urgent COVID interventions. This means that there will be some exciting new developments in the prescription-strength skincare world and more options than ever before.
Skinimalism
In 2023, expect to see fewer 10-step skincare routines and "shelfies" full of overflowing eye care products. With a recession likely, consumers will be focusing on multitasking products that offer many benefits at once instead. They will also be paring back their skincare routines overall to focus on "skinimalism," or skincare minimalism.
Barrier Repair
Barrier repair was already trending in 2023, but we will see it get even more attention in the new year. In fact, many of us might need some barrier repair after smothering our skin in too many products for the past couple of years! In addition to minimizing the number of products we use, the focus will be on nourishing our skin barrier and making sure it stays healthy and hydrated.
At-Home Devices
While the most powerful treatments will still be available in dermatologist offices and medical spas, technological advancements mean that at-home skin care devices are becoming more effective than ever, and they will continue to trend in 2023. However, if a recession does hit, then we will likely see people becoming more choosy about which devices to drop money on.
Bodycare
Bodycare is already trending, but the focus is going to shift in the new year. Instead of only concentrating on self-care pampering and getting clean in the shower, bodycare will highlight other skincare conditions — including eczema, keratosis pilaris, and more — and how to treat them with over-the-counter products.
Niacinamides, Peptides, and Ceramides
This trifecta of ingredients is already having a moment, and they will continue to trend strong in 2023. Niacinamide will continue to pop up in many skincare products, and you will also see peptides and ceramides come to the fore as well. In fact, you will even see skincare products combine all three ingredients for a supercharged result.
Clean Beauty
Clean beauty is one thing that you probably won't see trending in the new year. The benefits of clean beauty were dubious at best, and most of it was simply a trendy way to market skincare products in a crowded market. But now that so many consumers have educated themselves about effective skincare ingredients, they are no longer impressed by the unsubstantiated claims of clean beauty. Instead, brands will focus on evidence-backed claims instead.
Skincare/Makeup Hybrids
Skincare and makeup used to be distinct categories, but the lines between the two are going to blur in 2023. More and more, makeup products are adding beneficial ingredients to nourish the skin even as they approve appearance cosmetically. Skincare products such as sunscreen are also adding tints to make them act more like makeup.
Menopausal Skin
After decades of being ignored, menopausal skin will finally get the attention it deserves in 2023. The skin undergoes significant changes during menopause due to fluctuating hormonal levels, becoming thinner and drier, sometimes quite rapidly. In the new year, we will see more discussion of the changing needs of skin during menopause and more products tailored to menopausal skin.
Dermatologist and Aesthetician Brands
Speaking of well-educated consumers, celebrity endorsements are no longer enough to motivate people to buy skincare products. Instead, we're going to see more and more trusted dermatologists and aestheticians launching their own skincare brands in the coming year. Since these experts have a long history in the field, they offer a powerful marketing message to potential consumers looking for the most effective skincare formulas.
Skin Cycling
In a nutshell, skin cycling refers to focusing on active-packed products and giving your skin rest days in between using powerful "actives." Skin cycling started gaining steam in 2022, but it will get even more attention in 2023, especially in concert with "skinimalism" and barrier repair. If you haven't tried this trend yet, then you probably will before the year is out!
Slugging
Slugging — the practice of coating your face in petroleum jelly to prevent moisture loss — has been around for a while, but it really took off in 2022. In the new year, we'll probably see slight variations on this trend, such as "skin flooding" and "moisture sandwiching." These trends focus on building up layers of hydrating serums and anti-aging moisturizers to keep skin plump and dewy.
Skin Neutrality
We saw the body positive movement slowly give away to body neutrality, and we will see the same thing start to happen in the skincare world as well. Instead of hyping people up to put a positive spin on their acne or hyperpigmentation, we will see people accepting skin-deep imperfections as a normal part of life, with less focus on achieving a flawless complexion.
Psychodermatology
Just like there's a link between gut health and skin health, there's a link between mental health and skin health, and 2023 will be the year we finally talk about it. Increases in stress can cause flare-ups of acne, eczema, rosacea, and other skin conditions — while decreasing stress can help clear your complexion. Psychodermatology takes a more holistic approach to skin health and treats mental health and skin health together.
What other skincare trends are you looking forward to in the new year? Let us know in the comments below!