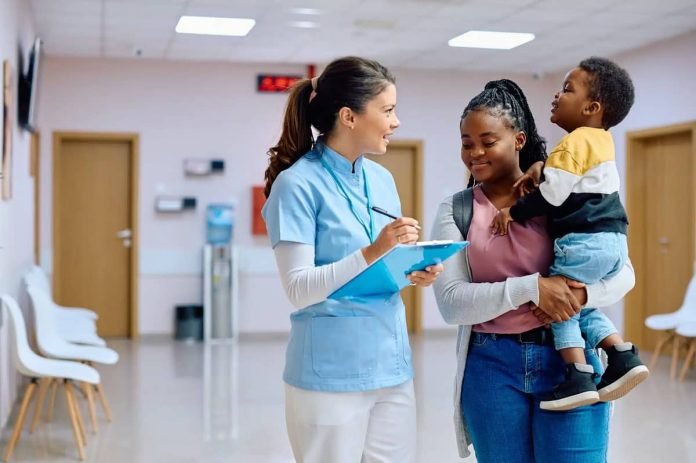 According to a recent report by CNN, there is a higher demand for beds in pediatric wards today than there was during the pandemic. The same report highlights that only 37% of American hospitals offer pediatric services, down from 42% ten years ago.
One of the reasons some pediatric hospitals were closed down is a shortage of trained pediatric nurses. These professionals offer a much-needed service, but we are not training enough of them – or training them fast enough – to keep up with the demand.
Registered pediatric nurses are among the busiest professionals in any hospital. There are few of them, and the patient burden increases every year.
It is, however, one of the most rewarding healthcare careers. Most pediatric nurses will tell you that there is nothing else they would rather be doing. They love their patients, love taking care of them, and are committed to helping them get better. Many form bonds with their patients that last years.
As you plan for a career in pediatric nursing, it is important to understand the roles and responsibilities of these professionals and how much they make. Their salaries vary depending on where they practice. In rural areas, nurses often make less than they would in big cities.
If you compare RN pay in Kansas to RN pay in New York or Los Angeles, for example, you will find that they vary. The differences arise because of the cost of living – it is cheaper to live in rural areas than in big cities – and also because of the workload. A typical pediatric wing in a big city sees many more patients than one in a rural city. Holy Family University offers an accredited Bachelor of Nursing degree which fully prepares students with the knowledge and skills needed to be a successful nurse who can work in these different environments and be paid well for doing so.
This isn't to say that nurses in Kansas struggle to make a living. They make enough to live comfortably, and they get good benefits.
You will also find that it is easier to get a job as an RN in Kansas because there are typically fewer applicants for every advertised position. If you have a nursing degree and a valid RN license, it may be a good idea to apply for jobs there, especially if you aren't keen on a long job hunt. Don't let the RN pay in Kansas fool you; you may find that your work there is much more satisfying.
Before you apply for your first job, it would be smart to familiarize yourself with what a pediatric registered nurse does within a hospital and what they do for their communities.
The Role Of The Pediatric Registered Nurse In A Hospital
A pediatric nurse is a healthcare professional who cares for infants, young children, and adolescents.
Children are particularly difficult to diagnose and treat because their communication is limited. As they grow older they become teenagers who have other unique problems. Pediatric nurses are trained to deal with the demands of this particular demographic.
They also handle parents and guardians who are often in the way and can be a distraction.
The role of the pediatric nurse may vary depending on where they work, but there are some standard duties they are expected to undertake.
They dispense medications and injections
On any given day, a pediatric nurse will make sure that her patients take their medications and receive their injections as prescribed.
These nurses also play a critical role in pain management. They know how to get children to explain their level of pain so that they can give them the right amount of medication.
They provide direct care during the treatment of illness or injury
If a child is injured or ill, they are seen by a doctor and a pediatric nurse. The doctor makes the diagnosis and creates a treatment plan, and it is the job of the nurse to make sure that the treatment is adhered to.
The nurse makes sure that the child is comfortable, properly medicated, well-fed and that they are recovering as expected.
They conduct physical exams and diagnostics
Pediatric nurses are taught how to examine and diagnose patients in nursing school. When a patient arrives at the hospital, the first medical professional they meet is a nurse.
They take the child's vitals (including weight and height) and also make a preliminary diagnosis that they pass on to the doctor.
These nurses have a special approach that helps calm children and babies who may be frightened and may not understand what is happening to them.
Pediatric nurses know how to communicate so that they can get the information they need from their patients, and they also explain what is happening to them in language that they can understand.
They work within teams to provide treatment
Patient-centered care has become the norm in most American hospitals. In pediatric wings, rather than just one doctor and one nurse seeing a chronically ill patient, treatment is delivered by a team.
The team is comprised of a number of healthcare professionals including a pediatric nurse. Because the nurse spends the most time with the patient, they can give the team concise updates and briefings.
They monitor child wellness
It is important to keep an eye on development fundamentals for babies, children, and teenagers. Every time they go into a healthcare facility they are checked for weight, height, dental development, and other basics.
The pediatric nurse keeps an eye on these fundamentals. If they catch something that isn't within their purview, it is their job to refer the patient to the right professional and coordinate so that they get the care they need.
Imagine, for example, that a parent brings in a baby for a wellness check.
The pediatric nurse looks at developmental markers and makes sure that they are being met. The nurse may realize that the baby's reflex responses are a little slow.
They will do basic tests to determine that the baby can hear properly; if they can't, they will refer the child to a specialist ENT who can give a precise diagnosis.
If the problem isn't the child's hearing, the nurse must follow up with the right professionals to make sure that the child is suitably diagnosed and treated.
They are coordinators with the rest of the medical staff
It is the job of the pediatric nurse to coordinate with the other healthcare professionals to ensure that the child gets all that they need. If they notice anything of concern in their patients, they talk to the relevant hospital staff to make sure that it is attended to.
They keep parents and guardians updated
Parents are often the only source of emotional support for children and adolescents who are ill. It is therefore important to give them the pertinent information so that they can be as supportive as possible.
The nurse lets them know the condition of the child and the treatments they are receiving.
They also talk to them about any other concerns they may have. If a nurse is concerned about the weight of the child, for example, they will talk to the child's parents about what the child eats and explain how they can help normalize weight.
All too often these nurses are called upon to provide emotional and psychological support to parents who are overwhelmed by their child's illness. They step into the role of counselor and help the family get through the difficult period.
They refer patients to resources
There are resources within the community that can help patients become healthy more quickly. It is the job of the nurse to let patients know where these resources are and how they can access them.
In many poor communities, for example, registered pediatric nurses often refer patients to food banks so that they can improve their nutrition.
They are advocates for their patients
The nurse is the voice of the patient, and advocacy is part of their job. They approach the relevant authorities to ensure that their patients have everything they need.
The mental health of children and adolescents
Today's nurse is trained to detect mental health problems in children and young adults. If in the course of diagnosis and treatment they feel that a child could benefit from mental health therapies, they must refer them to the right professional.
These are the roles that are usually quoted in job descriptions for pediatric nurses. However, they are usually required to do more.
Many will tell you that they become part of the emotional support circle for children who have long hospital stays. They make time in their day to spend time with them, read to them, talk a little, and even play a game or two.
It can be emotionally taxing, and the nurse must take care of their emotional, physical and mental health if they are to cope. They must make time to rest, eat a balanced diet, meet with friends and family, and do something fun outside the hospital.
The Role Of The Pediatric Registered Nurse In The Community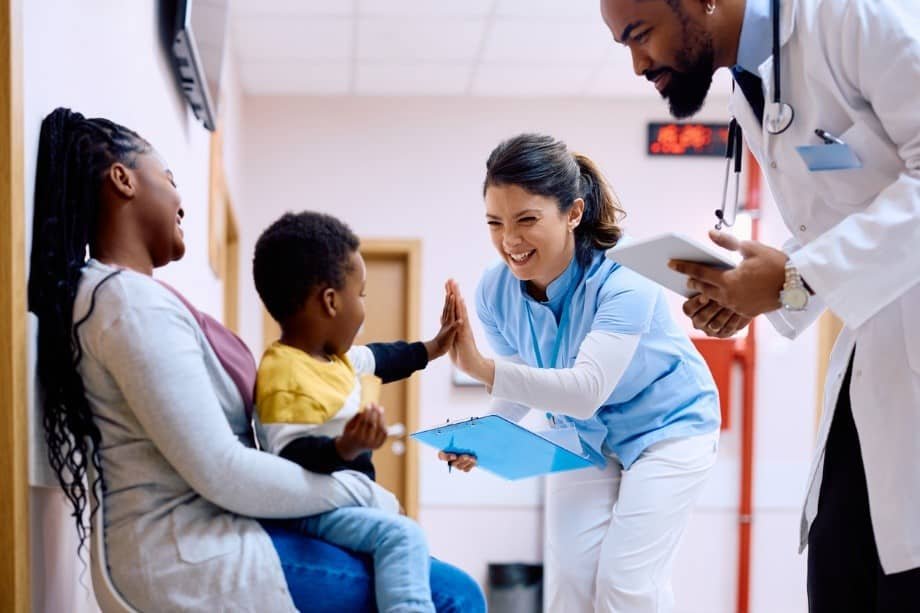 Community-based healthcare is becoming increasingly common in America.
Rather than waiting for patients to come to the hospital, healthcare professionals visit homes to make assessments about lifestyle, advise community members on how to live healthier lives, and sometimes diagnose patients.
It encourages better health within communities because problems are tackled before they occur.
Not only is it good for the population, but it is good for the country because it helps lower the healthcare bill. It is also good for professionals as it reduces their burden in the long term.
Pediatric nurses play a special role in the community, and their responsibilities may differ depending on where they live.
They are family advocates
The nurse seeks out families who have healthcare needs and serves as their voice. They approach the relevant authorities to make sure that they know that there are problems that need to be addressed.
Pediatric nurses are health champions
They are all about the prevention of illness. These nurses go to homes to talk to parents about how they can keep their children healthy.
They discuss things like diet, exercise, and how to diagnose simple illnesses like colds and flu.
These nurses start to visit homes as soon as a child is born and, depending on the health of the child, can keep up the visits until the child becomes an adult.
For parents of children with mental or physical disabilities, pediatric nurses provide a vital service.
They are teachers
This was never more apparent than during the COVID-19 crisis. Nurses went around in communities educating the public about how they could stay safe.
Pediatric nurses were not left behind. They were out and about, meeting with parents to talk about the best way to keep children and teenagers safe from illness.
They don't just step in when there is a crisis. These nurses continually provide health education within communities, and they are available to answer questions and address concerns.
They are counselors
In many cases, all that is needed is counseling. The pediatric nurse establishes a relationship with parents to make healthcare easier. She talks to them about the challenges in their lives and how they can overcome them.
If they sense a need for more structured mental health services, they usually refer the parents to a more qualified professional.
They research and write reports
A community-based pediatric nurse is in touch with the community and well-placed to conduct research that can be used to uplift their health standards.
They can use questionnaires and surveys or hold focus groups to collect the information that they need.
They talk to teenagers about their physical development
In some communities, the pediatric nurse is tasked with providing sex education to teenagers.
They discuss topics like what teenagers can expect as they develop, pregnancy, sexually transmitted diseases, and whatever else they may consider appropriate for their audience.
Pediatric nurses talk to expectant mothers
Rather than waiting for mothers to give birth and then beginning their education, community pediatric nurses often start to talk to them a few months before their due date
This way, they can prepare adequately, and they know what to do when the baby arrives.
The nurse doesn't just discuss the health of the baby. They also talk to the mother about how they should take care of their physical and mental health after childbirth, and they let them know about whatever resources are available for them within the community.
They refer families to resources
The pediatric nurse has a unique window into the struggles of the families she visits, and she can refer them to resources that enhance their well-being.
If they are struggling for food, for example, she can refer them to a food pantry and explain how they can qualify to become recipients.
What Soft Skills Does One Need To Become A Pediatric Nurse?
Nursing school teaches you the technicalities of patient care but not the soft skills you'll need when interacting with patients.
Nurses with the right soft skills engender more patient trust, and they tend to get promoted faster.
As you prepare for a nursing career, think about how you can develop the following soft skills:
Empathy – Your job requires you to be empathetic and compassionate. With kids you get one chance, and if they like you from the beginning they are easier to communicate with.
Resilience – It can be very difficult to watch a child suffer. Unfortunately, you will come across children who are in a great deal of pain in your job. You must develop emotional resilience.
Endurance – You must be prepared to work for long hours, and sometimes you will be required to work double shifts. You must learn to keep going without losing momentum.
Be fond of children – This one seems obvious, but not everyone who trains as a pediatric nurse likes children. If you want to be good at what you do, you should know how to handle babies, toddlers, young children, and teenagers.
Be a good communicator – You should know how to talk so people listen, and you should be a good listener.
Be a critical thinker – How do you go about solving problems? Are you the sort of person who is innovative when faced with a problem? Good nurses are good problem solvers, and when they need help they ask for it.
Be a good time manager – You will have many children under your care, and you must attend to all of them. You should learn how to manage every hour so that you can get the most out of each day.
Where Do You Go From Here?
Now that you understand the roles and responsibilities of a pediatric registered nurse, you may want to take a moment to think about whether you have it in you to do all these things.
The job isn't easy, but if you have the right training, soft skills, commitment, and passion, then you will do well.
Remember – learning is important, so make time for seminars, workshops, and even degree courses.
The more educated you are, the better you can take care of your patients, and the easier it is to get promoted. If you do a nursing management degree, you will end up being a nurse manager, and you can expect to be paid more.