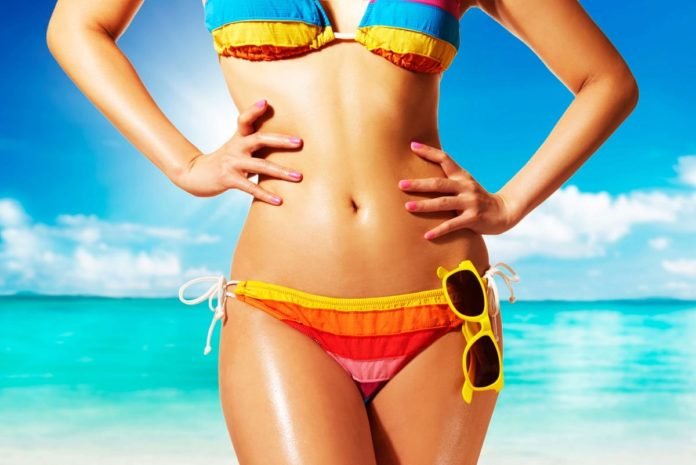 Summer may be officially here, but what if your summer body's not? If you procrastinated on getting your body bikini ready, there's still hope. With at least another 3 months of warm weather ahead (depending on where you live), there's still time to feel good in your skin this summer. Just follow these 4 tips.
1. Best Way to De-fuzz: Laser Hair Removal
Shaving, waxing, tweezing – why bother when you can have smooth skin year-round? Laser hair removal is the gold standard for reducing unwanted hair on the body or face. And today, the technology is more advanced than ever, allowing for a number of skin tones and hair colors to be treated.
There are many types of lasers on the market, so be sure to do some research before you decide which is right for you. This article from smartbeautyguide.com can help. And don't even think about trying one of those at-home laser hair removal gadgets; they don't work.
2. Best Way to a Better Body: High Intensity Exercise
Several exercise programs claim to be the best for weight loss – from CrossFit, to hot yoga, to kickboxing. But to get a body that is better on the inside as well as the outside, research points to short bursts of high-intensity exercise.
A study in the Annals of Internal Medicine found that high-intensity cardio does a better job of decreasing blood sugar levels than low intensity exercise. While participants both lost similar amounts of weight, the high-intensity cardio group had better glucose tolerance and cardio respiratory fitness (heart health). Glucose levels are linked to heart disease and stroke risk, and better glucose tolerance means that you process glucose more efficiently, which lowers your chances of developing 1 of these conditions.
Bottom line: Exercising at low or high intensity can help you lose weight. But crank up the energy to reap the full benefits from your workout.
3. Best Way to Feel Good in a Bikini: Breast Enhancement
Breast augmentation is one of the most popular plastic surgery procedures in the United States. Hundreds of thousands of women have breast augmentation every year, and feeling good in a bikini is just one of the many reasons women decide to boost their cup size.
According to the website of Plastic Surgery Center of the South, a plastic surgery practice offering breast augmentation for the Atlanta area, women choose implants to increase their breast size as well as:
Correct asymmetry
Renew the shape of the breasts (after childbirth or aging)
Improve the look of breasts due to trauma or congenital defects
Restore volume after weight loss or pregnancy
Reconstruct one or both breasts after cancer
Breast implant technology has also improved to more closely mimic the look and feel of real breasts. Now, in addition to saline and silicone options, you can choose between different implant textures, profiles, shapes, sizes, and styles. You can also "try on" your new breasts before committing to surgery with the help of imaging software like VECTRA® 3D imaging.
4. Best Way to Get Glowing: Sunless Tanner
Just in case you haven't heard, tanning is a big no-no. Sure it feels good to be a bronzed beauty – everything looks smoother and sleeker with a tan – but ultimately, too much sun can lead to skin damage, premature aging, and (worst of all) skin cancer.
The best way to have glowing, sun-kissed skin without sun damage is to use a sunless tanning product. You can do it yourself at home with an over-the-counter product, or visit a tanning salon that offers sunless tanning. Getting your faux tan to look natural so you don't look like an Oompa Loompa takes practice, so follow these tips from cosmopolitan.com.
Exfoliate everywhere
Hydrate areas of dry skin, like knees and elbows
Use a mitt to apply your tanner
Use a hair dryer to help the self-tanner dry faster
Wipe away excess
Rinse
One last tip to share: Your bank account doesn't have to suffer for you to feel good in your skin this summer. Plastic Surgery Center of the South is hosting a summer giveaway that – if you're lucky – can help with financing some of these tips! The grand prize is valued at over $1,000. Visit their website to learn more and enter to win.
Save