Linen blonde hair color is all the rage right now, and it's easy to see why! This trendy hair color is perfect for those who want a soft and natural look with a touch of sophistication. If you're curious about trying out this stunning hair color, you've come to the right place. In this article, we will explore everything you need to know to achieve and maintain this light linen shade!
Before diving into the world of linen blonde hair color, though, it's essential to understand what it actually is!
What Is Linen Blonde Hair Color?
Linen blonde hair color is a soft, light, cool-toned blonde that mimics the beautiful shade of linen fabric. When done right, the slightly ashy undertone of this professional hair color is a great option for those who want a more natural-looking blonde.
Just like the luxurious fabric it's named after, linen blonde exudes a sense of effortless style. It's a hair color that elevates any look, and no matter your skin tone or undertones, the cool-toned nature of linen blonde adds a touch of radiance for most fair complexions, and its ashy undertone balances out any warmer complexions, to create a harmonious contrast.
As if all of that wasn't enough, the muted tones of linen blonde make it suitable for both professional and casual settings, allowing you to rock this look wherever you go. Its understated charm adds a touch of sophistication to your overall appearance, making it a perfect choice for the workplace. On the other hand, linen blonde's soft and natural-looking hue effortlessly transitions into a laid-back, beachy vibe, making it equally perfect for weekends spent by the ocean or casual outings with friends!
Preparing Your Hair for This Pretty Shade
Embarking on the journey to achieve linen blonde hair is an exciting endeavor. However, it's important to prioritize the health and strength of your hair before diving into any hair lightening or coloring processes! By taking the necessary steps to prepare your hair, you can minimize damage and ensure a beautiful end result.
One crucial step in preparing your hair for the linen blonde transformation is to focus on inside and outside nourishment. Hydration and moisture from proper care and professional products like masks, oils and deep conditioning treatments can help to combat excessive drying during this process and create a solid foundation for the upcoming color change.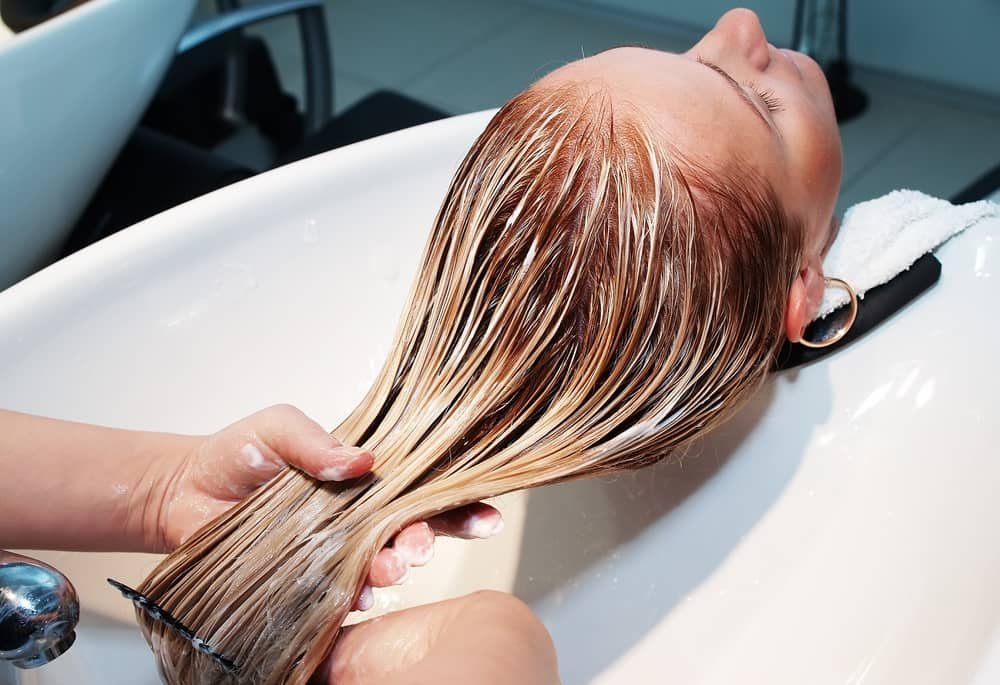 In addition to nourishment, it's always essential to cleanse the hair thoroughly before processing (especially when it comes to applying products like extra strong, professional hair lightener). Using a clarifying shampoo will help remove any residue or buildup that may be present on the strands, which will be essential for the color to penetrate evenly and result in a more vibrant and consistent end result. By starting with a clean canvas, you're setting yourself up for success in achieving that stunning linen blonde shade!
The Key to Linen Blonde Color
Now that you've prepared your hair, it's time to prepare for a seamless and successful transformation to this beautiful shade by following the steps below.
1. Pre-Lighten Like a Pro
One of the first and most important steps in the process will be evaluating the current hair color, and determining if pre-lightening is necessary to achieve a pale yellow or platinum blonde base.
If you're unsure of how strong the strands are, it's always a good idea to perform a simple strand test before a process like this to assess the hair's lift-ability and ensure it can withstand the pre-lightening process without excessive damage! Keep a close eye on the hair during the process, and rinse immediately once the desired level is attained.
2. Attain the Right Undertone
The use of a violet-based toner to eliminate any remaining warmth and create the cool, ashy tones of linen blonde is essential.
You'll want to select a toner with the appropriate level and tonal range to neutralize any unwanted undertones, apply the toner evenly (starting from the roots and working through to the ends) and follow the recommended processing time precisely to avoid accidentally over-toning.
3. Rinse and Rejuvenate
Rinse the toner thoroughly from the hair until the water runs clear, and follow up with a quality conditioner. Be sure to use cool or lukewarm water when rinsing, though, in order to help seal the hair cuticle and retain the toner's effect!
Keeping Linen Color Fresh with Proper Post-Color Care
Style the hair as desired, but from here on out, keep in mind the importance of protecting the color and maintaining its vibrancy. Avoid excessive heat styling, use heat protectant products to minimize damage when you do, prioritize moisture and hydration and introduce hair care products specifically designed for colored hair into the routine to help prolong the life of your linen blonde.
The frequency of touch-ups depends on several factors, including how fast your hair grows, how healthy your hair is and how well the color is being maintained. Generally speaking, though, it's a good idea to schedule touch-ups every four to six weeks to be proactive against fading and maintain the desired level of linen blonde.
With its timeless appeal and versatility, linen blonde is a shade that's sure to make you feel like a true trendsetter, So take the techniques and tips above and get ready to rock the linen blonde look with true confidence!