Going to the gym and training can help you reach your fitness goals. With all the options available, people just get lost in choosing one. That is why there are different types of gyms that can assist you in working out to achieve the results you want. Whether you decide to choose personal training or group fitness, there should always be a right gym for you.
Here are the options you can choose:

1. The Membership Gym
The first option is a 24-hour fitness gym, a great place for cardio and lift weighting workouts. Signing up for membership makes you accountable to get to the gym in reaching your fitness goals. Most members never really maximize the time for training, that they do not go to the gym as often.
This is a long-term membership that welcomes as many people to sign up. It has limited rooms and so the members can come up without specified schedules. The members can use all the amenities like a basketball court, pool, showers, and gym equipment. Cheaper options offer fewer amenities and might not include showers.
Personal Training:
This is one-on-one training and takes a few steps to finally begin training. First, the clients will meet a member of the sales staff to talk about the package of personal training, including the hourly rate. This person is not even qualified to discuss the matter, just working to earn a commission.
Afterward, you will meet a trainer with bare certification in terms of education, below the minimum. They are paid minimum wage and have a high turnover rate.
There are lots of horror stories with this training setup, like irresponsible staff members. Some trainers are not even showing up to clients.
Athletic clubs are the best alternative to meet more qualified staff, usually college-educated trainers. They are well-paid and a better option to sign up with.
Group Training:
Not all workouts are designed for large class settings, like a cardio workout. Attending group gym training may compromise attention from the class instructor. It is possible with small groups in classes like yoga and boot camps.
2. The 24-hour access gym
A 24-hour access gym is a bit confusing with the membership gym. The only difference is the use of a key card to enter the gym that applies day and night. Plus, cardio equipment can be found in this gym setup. Other features to offer depending on the owner's franchise.
Personal Training:
The kind of training for an all-day access gym will depend on the franchise location. Its owner can do personal training, as well as group and private training.
3. CrossFit
We are to discuss the good things about the CrossFit option, not to disregard its drawbacks. CrossFit is enriched with gym equipment for cardio and weightlifting. It is not accessible by anybody unless the owner allows it.
This type of gym permits class membership only, which limits people's access. It also requires coaching while working out.
Kind of training:
CrossFit is composed of pre-made workouts to be followed by up to forty people per class. On the ramp, a program is provided for the new members to follow the fundamental movements. The CrossFit organization selects trainers based on the system's qualifications and not on legal terms. They do not accept trainers educated by other organizations.
The level of progress for each client cannot be consistent due to the large group setup. The optimal coaching ratio should be one coach for six persons. And with CrossFit, it is questionable.  Another issue is the exercises are less complex while the trainees try to beat someone else's progress. People with a gymnastics background have a competitive edge for the CrossFit model.
4. Boot camps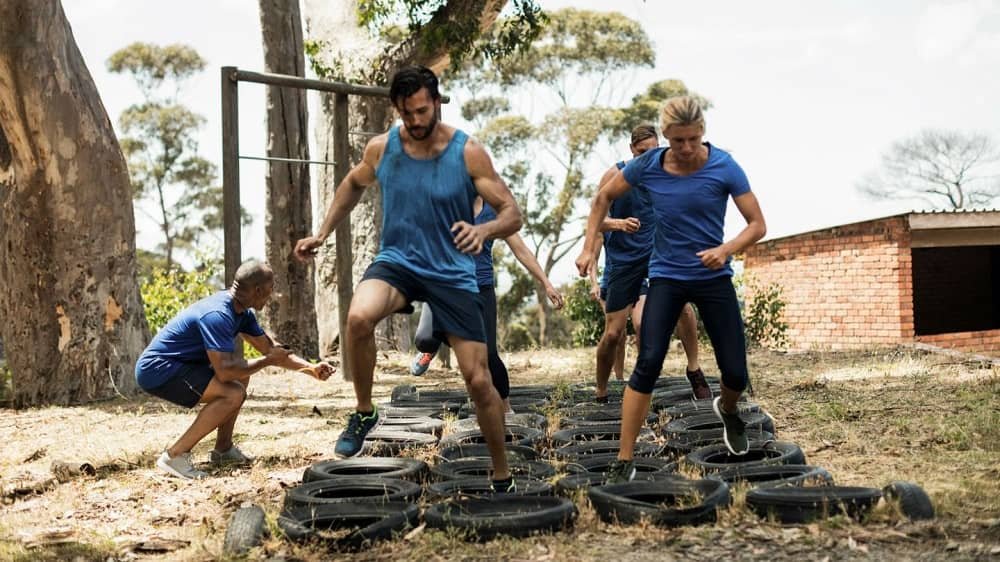 Boot camps are a standalone type of gym, commonly conducted outdoors. Most boot camps exist as an extension of a big box gym. It is similar to the CrossFit training set up in a large group of people doing the same movements. Coaching membership ensures individual coaching.
The exercises for boot camps are easier to follow, and unlike with the CrossFit exercise, the selection is considered. It consists of self-limiting exercises and bodyweight exercises. This setup also keeps the clients safe with the help of the large group program. 
Kind of training:
The trainers for boot camps only hold basic certification, meaning minimally trained. However, they are capable of providing a general fitness program for you to burn some calories. Boot camps demand higher energy compared to other personal or group training. If you want minimal coaching, boot camps are perfect for you.
6. Training gyms
The final alternative is simply not the least of all the gym options. Training gyms are the best place to commit to reaching your fitness goals with no membership access needed. They offer a wide range of training programs, either for a small or large group.
Training gyms aim to focus on long-term training that may demand a higher cost. It is essential to pay for a month-long membership before you commit to a training program. Membership involves personal coaching to get better outcomes.
Kind of training:
The type of training for this option is more customized, either for small or semi-private training. Also, the level of attention is increased, with the help of educated trainers. They will create the best training program that suits you. Training gyms also promote social interaction among the apprentices.
Check out the Mandurah gym to start pulling over your fitness goals this year! Experience their personal training methods with passionate coaches ready to help.