Winter Love Island will be coming to a close soon, and it's been a mad one. Some tune in for the drama, others for the chance to watch attractive singletons lounge around in the sun, and some for the fashion. After the amazing success of the last season, Love Island decided to partner with eBay again to supply the islanders with all their fabulous looks, pre-loved, of course. Being sustainable can be fashionable too! Sunglasses are always a big part of their outfits, and with the sun shining so brightly in South Africa, they know protecting their eyes is just as important as looking on-trend.
This year the islanders have been wearing some fashionable sunglasses from a variety of brands, all at different price points. From the affordable Australian brand Quay to luxurious designer brand Balenciaga, the cast have chosen a selection of classic frames to wear, which was smart, because they know classic accessories go well with anything. We're on the job to find you similar styles so you can look just as effortlessly cool as they do.
Shaq and Tanya

Shaq and Tanya have been a couple since the beginning, and they might have the odd argument here and there, but they always seem to progress through them and become stronger than ever. The two have taken to wearing similar sunglasses, with a preference for black, rectangle frames. Tanya has been wearing a statement pair of Versace shades. These designer sunnies have the iconic Versace logo in gold on the temples. These are similar to Shaq's pair of large, rectangle shades, they do say that couples eventually start to look like each other!
Lana and Ron
Another strong couple, Lana and Ron had a rocky start to their relationship, but they've gotten through it all together. Ron has been loving his square aviators since the beginning. These colourful shades have a blue gradient tint and a gold metal frame for a unique and luxurious look. These stand-out sunglasses perfectly match his cheeky chappy personality. Lana on the other hand has been wearing some oval-hexagonal shades which are a popular style of shades in 2023, it's been seen everywhere, from designer runways to the fashion crowd on the high street. This unique shape in a classic black colour suits her laid-back style.
Kai and Sanam
Kai and Sanam have been praised by many Love Island fans for being the only couple to stay relatively drama-free. Whenever there are explosive revelations or catty name-calling between others, they tend to stay out of things and just concentrate on themselves. Kai has been living the stress-free life in style with his oversized square sunglasses. The gold metal frame is complemented by brown lenses, a versatile style suitable for both men and women.
Jessie and Will
Jessie has an eclectic personality that seems to complement Will, it's not surprising they've been coupled up for this long. After the disastrous drama that was Casa Amor, the two have finally moved past his indiscretion and are looking towards the future. To suit her changing mood, she rotates between 3 pairs of sunglasses. A large, square pair of shades with a gold, metal frame. A square-shaped aviator pair and a wrap-style silver pair. The wrap-style frame is especially good for protecting eyes from the sun because it gives extra coverage around the head.
Rosie and Casey
New-comer Rosie and her chosen flame Casey haven't been together long, but they're already causing a stir. Things appear to be going well between them for now, despite the misunderstanding with Ron about Casey prioritising the boys over her. Rosie has been wearing black rectangle frames which gives her a sleek and fashionable look.
Tom and Sammie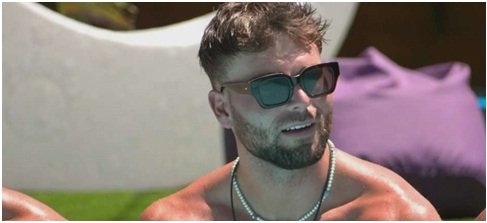 From biggest player in the villa to practically being married off, Tom has had quite a Love Island journey so far. He seems content with Sammie for now, at least he's been consistent in his style choices. Oversized square shades in a light brown colour have been Tom's choice of sunglasses. These neutral shades are the perfect addition to any look. Samie's style is more modern with a fun hexagonal metal frame. You can get the look with the same Ray-Ban shades and turn heads like she does in the villa.
Who do you want to win?
The stylish crew of Love Island are only on our screens for another week, we've enjoyed watching all the drama unfold, as well as the fashion of course.Each season is different, so you never know what you're going to get with Love Island, and this has been an interesting one. Read more about the stylish Love Island sunglasses worn by the Love Island cast.Which couple do you want to win? We'll all just have to tune in next week to find out!