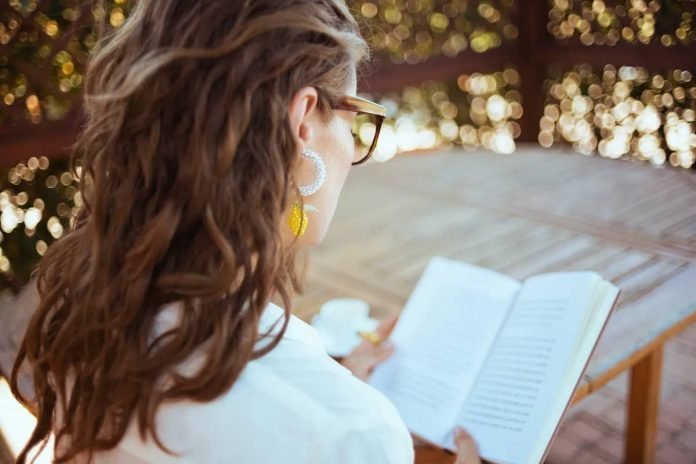 Is a relaxing staycation in your future? Make the most of your time off with a fun activity. Our ideas offer an inspiring way to enjoy your break and unplug from work. With some planning, your next staycation will be the perfect way to rejuvenate and recharge.
1. Read a Book 
 If you love to read, it's time for a classic novel or riveting bestseller. Get your reading list essentials as soon as you take time off. Some of our favorites include stylish sunglasses for women or men and a paperback for reading poolside. If you're short on time, you can download titles to your tablet or e-reader. Choose a summer suspense novel or an intriguing autobiography.
 Staycations are a time to treat yourself. Pick up a cute canvas tote to organize and hold your books. Reward yourself with a new pair of sunglasses or reading glasses. Seasonal eyewear always makes you feel vacation-ready. Some of the best on-trend looks include flattering oversized hexagon frames with summer-inspired color gradients and classic aviator frames with double bridge designs and chic metallic finishes.
For those who plan on reading indoors, today's best reading glasses for women and men feature lightweight frames and blue light-blocking lenses. Binge your favorite books or turn heads with colorful cat eye eyeglasses. Cat eye frames are comfortable enough to wear at home or attractive enough to bring on a weekend trip. An eco-friendly chain or beaded color block cord keeps your eyewear close.
2. Cook or Bake
Level up your cooking or baking skills! With a few days to spare, you can learn to bake classic recipes or try new cooking techniques. It's all about having fun, so grab a cookbook and find a recipe that intrigues you.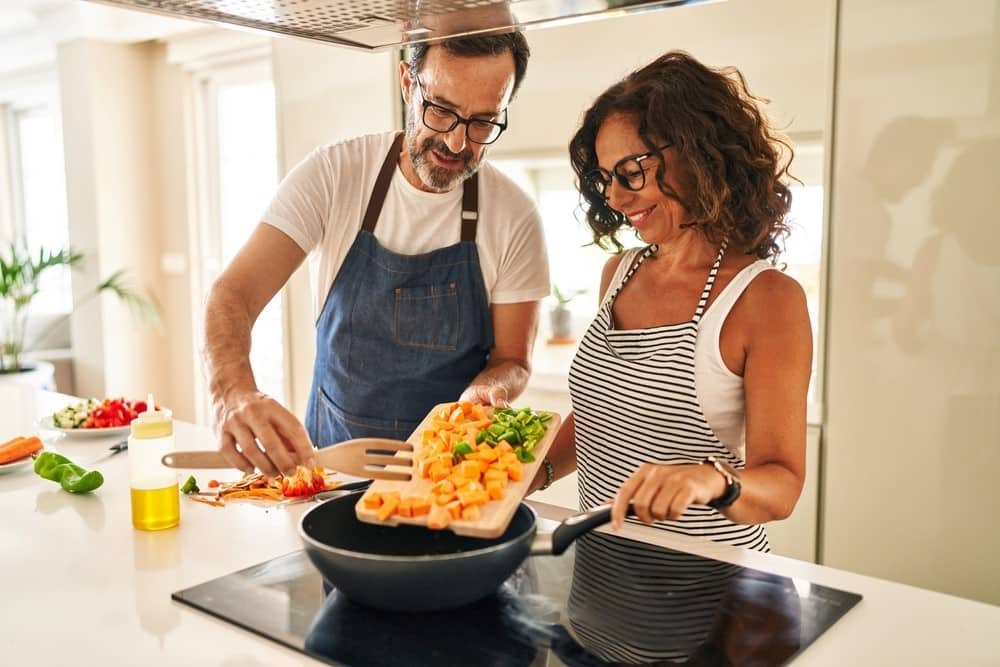 It's fun to try vegan baking with plant-based chocolate brownies or a unique dessert recipe like a tropical trifle. Or feel faraway with the help of a charcoal grill. Some of the best vacation-ready recipes include fresh grilled vegetables or kebabs featuring your favorite protein. Explore new flavors like chipotle tofu with pineapple or grilled green tomatoes with lemon zest and olive oil. A staycation is also the perfect time to pull off a tricky recipe. Create tasty cream puffs from scratch or learn to make pickled cherry peppers. If you're curious about international cooking, make a delicious dish like Spanish paella or Japanese ramen. Cook or bake your favorite comfort food and enjoy a book or movie.
3. Take a Day Trip
With a day trip, you'll check off an experience on your to-do list and switch up your usual schedule. From amusement parks to hiking trails, there is an adventure for everyone. Traveling within a couple of hours will keep your staycation fresh and relaxing.
Need some ideas? Find a beautiful park or an intriguing museum. Take a self-guided tour or eat a picnic lunch with friends. If you're a foodie, travel to one of the area's best restaurants. There's nothing more relaxing than a sun-filled outdoor brunch. Enjoy an elegant meal from a renowned chef or the area's most famous bakery.
Take photos and grab a souvenir. You'll have memories and mementos to make your vacation special. Whether you pick out a fridge magnet or a canvas tote, you'll get something useful and remember your relaxing time off.
4. Binge Shows or Movies
If your evenings or weekends are busy, you may not get enough time to watch movies or stream new shows. A staycation lets you catch up on that series you've heard about. Put on a pair of comfy pajamas and cozy up on the couch. A soft blanket and a stylish travel mug will help you stay warm.
Do you plan on streaming on your tablet? Get a pair of blue light readers to go with your device. Blue light blockers are on-trend eyewear accessories with flattering frame shapes and a lightweight design you'll love to wear anywhere you stream. Better yet, they can filter high-energy visible blue light from digital devices and keep it from reaching your eyes and contributing to eye strain or fatigue. More binge-worthy accessories include serving boards and snack bowls for your favorite treats. A popcorn maker can come in handy when you don't want to put the movie on pause. Don't forget the candles or LED strip lights to help set the mood.
5. Enjoy the Backyard
Your backyard has so much to offer. Put up a hammock and read a book in the shade of a tree. A picnic blanket is an excellent place for lunch or a nap. If you have a pool, use it as your personal oasis. You can even camp outdoors like you're on a destination vacation.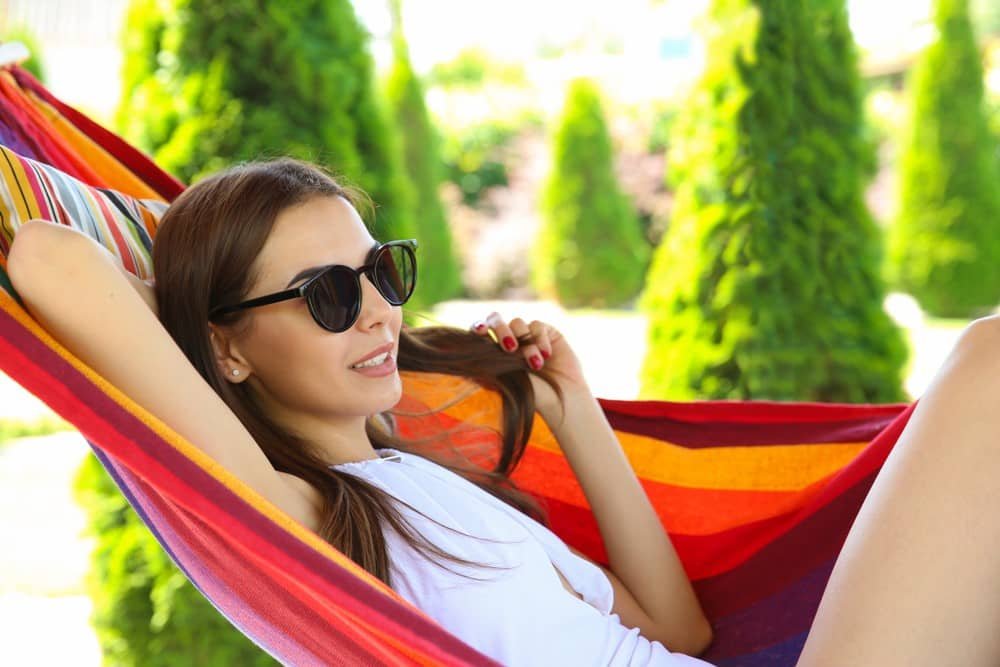 Have a family get-together or hold a barbecue. Share one of your new recipes or even dance to a playlist featuring your favorite music. Add flowers to your garden if you're interested in a DIY project. The right herbs and vegetables will grow in any backyard, big or small. Take some staycation time to get to know your plants and how to care for them. Whether they need shade or plenty of water, you'll be better prepared for your regimen once you return to work.
6. Get Some Rest
Many of us take a staycation to get some rest. It's your time off, so don't feel guilty about sleeping late or taking long naps. There are plenty of sleep accessories available to help you relax.
Light-blocking curtains will help you sleep through the morning. A new comforter or sheet set is perfect for your serene moments. Add a sound machine or white noise machine to help lull you to sleep. If you like aromatherapy, try calming essential oils and a diffuser for your bedroom. Lavender and vetiver are among the scents that can help you feel more balanced.
Experiment with different places to nap. A screened-in patio with a lounge chair or sofa will transport you to your comfort zone. Listen to the sound of birds and a gentle breeze as sleep envelops you. Your hammock and picnic blanket will also come in handy.
Make the Most of Your Staycation 
Staycations are always worthwhile! Trust us when we say you don't need to go somewhere far to use your vacation days wisely. Try something new this time, and you'll be surprised about what you can experience and accomplish.