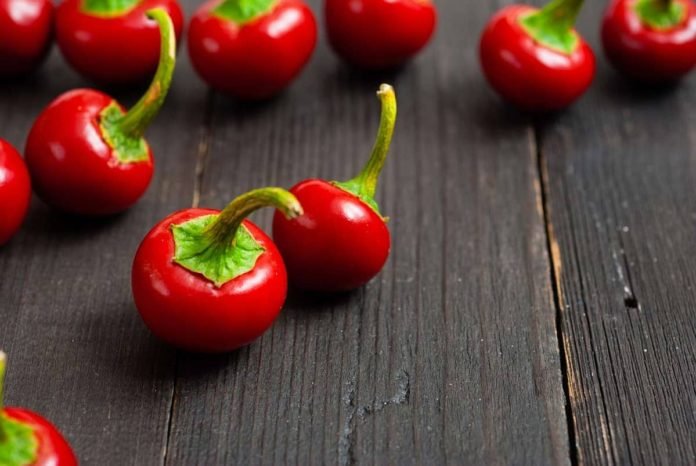 Sakshi and I have been part of an all-girls brunch league for years. It's a collection of female friends who used to brunch monthly and now it's somewhat random and more loosely defined (i.e. brunch may include dinner and a bucket of wine). I am indeed the only male member of said all-female group and we have a lot of fun together.
The five of us were having lunch three years ago when I noticed the pub we were dining at had preserves on a high shelf. As I scanned the shelf, my first observation was on the huge amount of dust covering the bottles; this was a short-lived observation as my eyes reached the end of the shelf and they fell upon a jar of glowing red orbs that were lit by the sun like they were some secret treasure fit for Indiana Jones. I had discovered the Hot Pickled Cherry Peppers:
Must Read: Does Worcestershire Sauce Go Bad?
Pickled Cherry Peppers Recipe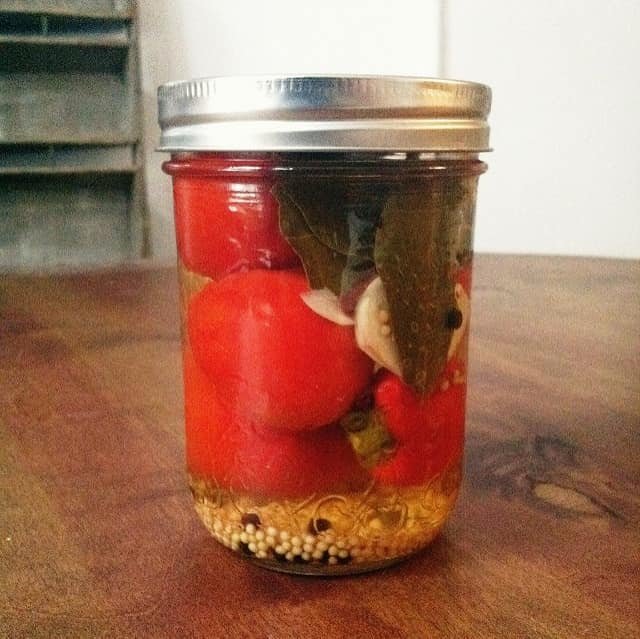 Pickled Cherry Peppers are really not that exotic; they're a common preserve in many Italian (and other) homes.  But their scarcity doesn't matter to me; I've had a secret crush on pickled cherry peppers because I think they're super pretty.  And sometimes love really is skin deep.
I finally got my hands on a bunch this year and am thrilled with the results.  I've learned to be patient when buying them – their sizes can be drastically different (ranging from smaller than a golf ball to larger than a soft ball) and I prefer them medium-small.
Before making a batch of these, consider jar size carefully.  They take a lot of space so quart (liter) jars tend to be the most commonly used size but I like to have some pints (500ml) which take less room in the fridge and are ideal for swapping.
Also Read: Best Strawberry Smoothie Recipes Without Yogurt
You will also have to cut small holes in your peppers to allow the brine to penetrate (though some recipes skip this step).  I use a very sharp knife and make 3-5 incisions where the green top meets the red flesh (they aren't visible when you remove the knife).  I think of myself as a clever plastic surgeon hiding my traces so others won't see them when I do this:
The size of your peppers will drastically alter the number of jars you require.  My peppers are larger than a golfball but smaller than a hardball (closer to the golfball) and I've found that 1 pound makes 2-3 pints.  If you use quart jars you will need less overall volume (i.e. more hot peppers fit in 2 quart jars than in 4 pint jars even though the volume in each set is the same).  Most quart jars are slightly wider and allow for a greater density of peppers to be packed inside.  Using a conventional-mouth jar (not a widemouth as shown) will allow you to trap the peppers under the shoulder and prevent them from floating.  I tend to use widemouthed jars for pints and the conventional if I'm doing quarts
Lastly, I've included the recipe for 1 pound of peppers as it's easily scalable.
Ingredients (for 1-1.5 quarts of peppers; scale as needed)
1 pound of cherry red peppers, washed and dried
3 garlic cloves
3 bay leaves
3/4 teaspoon black peppercorns
3/4 teaspoon mustard seed
2 cups vinegar (there will be some brine leftover)
.75 cup water
1.5 teaspoons salt (pickling salt works best)
2 tablespoons of sugar
You May Like: Dandelion Wine Recipe
Directions
Prepare water-bath, jars and lids
Place vinegar, sugar and water in a pot and bring to a simmer.
Using a pairing knife or kitchen scissors, trim any excess stem from the peppers (it will get in the way and less will fit in a jar).
Pierce peppers as shown above (3-5 times each)
Pack peppers in clean, hot jar.  Don't be afraid to pack them tightly.
Divide remaining ingredients amongst jars (if your peppers fit into 1 jar, add them all – if you're using a pint and a quart, the quantities are designed to easily split into two lots – two-thirds for the quart jars and one-third for the pint)
Pour hot liquid over the peppers.  Gently jostle the jars to remove any air bubbles.  Wipe rims, apply seals and bands.
Process in water-bath for 15 minutes.
I thought making a batch of these would solve my crush.  I was wrong; I was back at a market the next day, buying more, and am jarring a second batch of pickled cherry peppers this weekend!
Hope you liked this Pickled Cherry Peppers recipe. Let us know, if you need some other recipe, we will be happy to do it for you.
Related