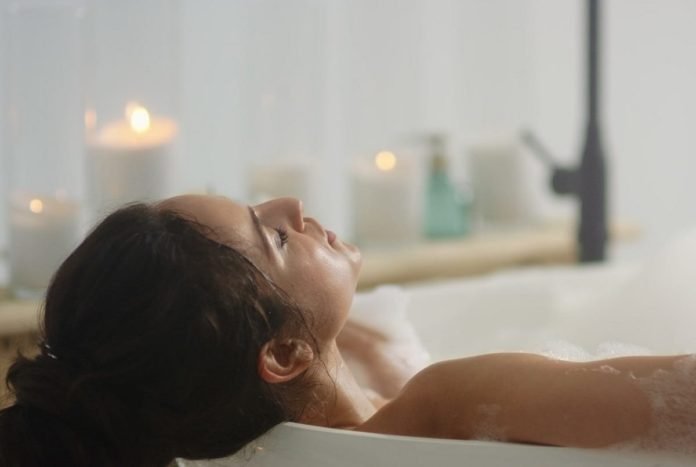 Long day at work? We've all been there. Whether it's your boss dumping a pile of work on your desk, getting stuck in awful traffic or breaking your favorite pair of glasses, some days can leave you feeling frazzled and overwhelmed. On days like these, it's helpful to know how to trigger your relaxation response and allow your stress to melt away. Ahead, a few easy ways to get those feel-good hormones flowing and turn a long day into a restorative one.

1. Unwind with a Weighted Blanket
If you're looking for a simple way to take the edge off after a long day, wrapping yourself in a weighted blanket might just do the trick. Weighted blankets help you sink into a state of relaxation by applying gentle pressure to the body and mimicking the sensation of being hugged. This sensation may help calm the nervous system, making it easier to unwind and fall asleep after a stressful day. Worried about getting too hot? Reach for a cooling weighted blanket and enjoy a sweat-free respite.
2. Go Forest Bathing
Don't worry, you don't need your swimsuit for this stress-reducing activity. The concept of shinrin-yoku (forest bathing) originated in Japan in the 1980s. It involves immersing yourself in a natural environment — whether it be a secluded forest or a park bench — and taking a moment to slow down. Essentially, it's a way to reap the well-documented benefits of nature while practicing mindfulness. If you don't have any green spaces nearby, sit in your backyard and tune in to the natural world around you.
3. Show Your Pets Some Love
It's no secret that pets make us happier and healthier. But did you know that spending just 10 minutes with your pet is all it takes to boost your mood and feel more relaxed? In a 2019 study published in AERA Open, researchers found that students who interacted with pets for 10 minutes had a significant reduction in cortisol (the body's main stress hormone). If you don't have a furry friend to help you pet your stress away, consider volunteering at your local animal shelter.
4. Make a Meal From Scratch
If you think that planning meals for the entire family is stressful, well — no argument there. The act of cooking itself, however, is a wonderfully stress-relieving experience. Cooking requires you to work with your hands, which gives your brain a chance to rest. It's also a way to flex your creative side and bond with the people you love. If you're a newbie in the kitchen, find some easy cooking or baking recipes and try your hand at cooking a meal from scratch. Not only will you relieve stress, but you'll save money to boot!
5. Take a Warm Bath
Who doesn't love taking a nice bubble bath every once in a while? Relaxing in a steamy bath is a great way to unwind after a long day. Take your bath to the next level by adding soothing ingredients such as lavender essential oil and Epsom salt to the water. If you're not a bath person, a warm shower works just as well! (Tip: For an extra-relaxing shower, hang eucalyptus from the showerhead. The compounds in eucalyptus provide a wide range of potential health benefits, including stress reduction and pain relief.)
6. Slip into a Comfortable Robe
Whether you wear one as part of your post-bath routine or use it for lounging around the house, bathrobes are the ultimate form of self-care. The right robe feels wonderful against your skin and makes you feel like you're in a five-star hotel. Want to usher in even more calm and relaxation into your nightly routine? After your bath, slip into a weighted robe, which essentially combines the power of a weighted blanket with the luxuriousness of your favorite robe.
7. Write It Out
Going through a tough time at work? Dealing with problems in your personal life? Write your way to a better state of mind by keeping a journal. Journaling is cheap and easy to do, making it one of the most accessible forms of self-care around. It's also a highly effective stress reliever — according to research published in the Journal of Experimental Psychology General, expressive writing can improve your memory and free up cognitive resources, which, in turn, allows you to cope more effectively with stress.
8. Do Yoga
Exercise is a tried-and-true stress But after a long day, you're probably too tired to walk the dog, let alone do a full P90X workout. Why not try yoga instead? This ancient practice has been scientifically proven to fight stress and help anxiety sufferers find serenity. Aside from making you feel more relaxed, ending your day with a yoga routine can also help you sleep and encourage you to eat healthier.
9. Watch Something Funny
It's hard to be upset when you're laughing at a Netflix comedy special or silly cat videos on YouTube. In fact, studies show that laughing can reduce levels of stress hormones like adrenaline and cortisol while increasing endorphins and other mood-boosting hormones. If you're dealing with negative feelings such as guilt or sadness, laughing is also simply a great distraction.
10. Call a Friend
Sometimes, the best remedy for a stressful day is to simply call up a friend and vent about your day. Obviously, you don't want to do this too much — your friends aren't a dumping ground for all of your stress. But if something is bothering you, or if you just feel a little lonely, talking with a friend is a great way to relieve stress and give yourself an instant boost of happiness.
Rallying back from a long day can be difficult, but it's well worth the effort. By doing activities that help you de-stress, you can end your day on a brighter note and live a happier life.