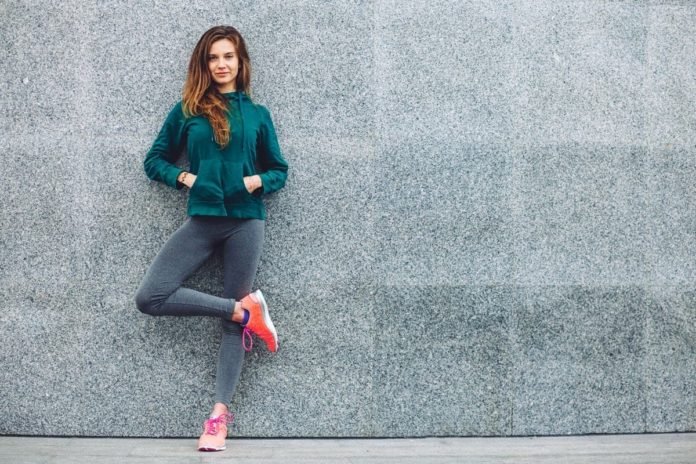 Real talk: It's insanely difficult to look good at the gym. Your face is beet-red, sweat stains are blossoming underneath your armpits and hair strands are sticking to your temples in the most annoying way. Oh, and let's not forget about the cute guy on the treadmill next to you who's trying to pretend like he can't hear you wheezing up a storm. That's just perfect, isn't it?
While there isn't much you can do to change your body's natural reaction to exercise, you can make yourself look as good as possible with chic workout gear. And, who knows? A stylish workout outfit might just be the thing that helps you finally bust through your fitness plateau. So, to help you make the most of your next sweat sesh, here a few of our best tips to take your workout wear to the next level.
1. Swap Leggings For Bike Shorts.
There is no way we could possibly talk about stylish workout clothes without mentioning the latest darling of workout fashion. Yep, we can only be talking about bike shorts. The '90s bike short trend burst onto the scene late last year and has been spotted on several major runways, from New York to Paris and Milan.
This workout wear trend clearly isn't going anywhere, so why not bench your usual workout leggings and rock a cool pair of black bike shorts for your next aerobics class? You can pair them with a matching crop top and throw your hair up in a sleek, high ponytail. For your post-workout look, throw on an oversized blazer and flaunt your on-trend street style like you mean it.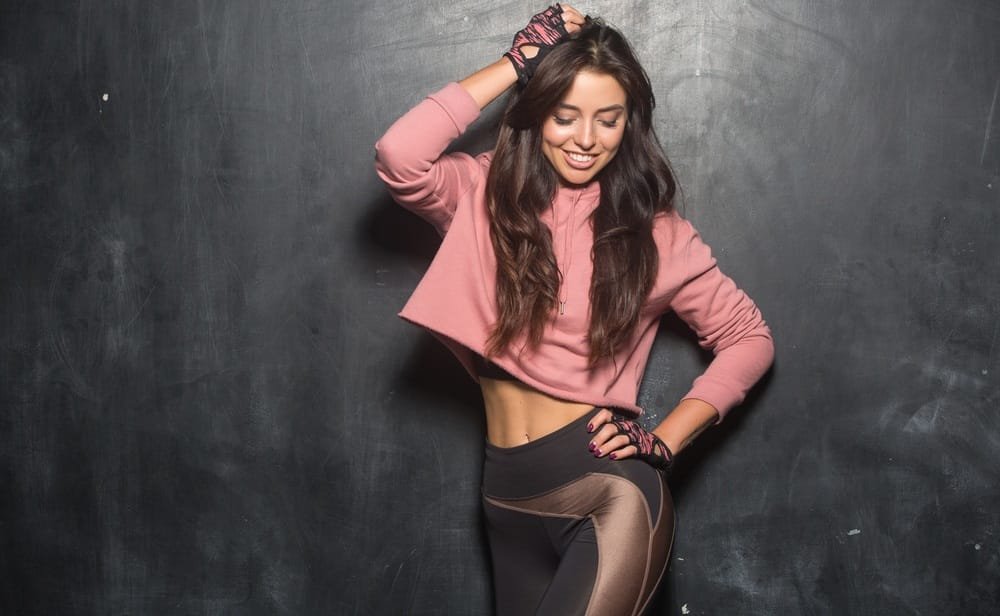 2. Wear A Crop Top Over Your Sports Bra.
If you're not down for wearing just your sports bra to the gym, well—we don't blame you. Sure, it's nice to go semi-topless at the gym and work out in less clothing, but nothing is more distracting during a workout than seeing some older guy ogling you while doing his bicep curls. Ick.
Luckily, there's an easy compromise for this all-too common problem. Just throw on a cute crop top over your sports bra. Better yet, throw on a mesh crop top. On top of adding some extra style to your workout outfit, a mesh crop top will also give the appearance of more clothing without sacrificing breathability. Combine with a pair of high-waist leggings for an outfit that's ideal for everything from circuit training to running.
3. Strategically Combine Streetwear With Activewear.
Have you ever seen pictures of celebrities such as Gigi Hadid and Emily Ratajkowski going to the gym? We know, totally not fair, right? How do they manage to look so good? Well, besides having a beauty team working around the clock for them, it's because they know how to stylishly combine their activewear with their street style.
To take a page out of their workout style playbook, just wear your regular fashion pieces over your workout clothes. Maybe you decide to imitate Rosie Huntington-Whiteley's gym style by wearing a leather puffer jacket over your crop top and leggings. Or, perhaps, you want to rock a pair of fashion-forward sneakers that you can run errands in post-workout.
No matter how you decide to style your outfit, just remember to keep your base layers (the layers closest to your body) workout-ready with moisture-wicking materials. Layer on top with your edgiest duds and you'll have no trouble looking like an A-lister on your way to the gym.
4. Choose Colors To Match The Season.
When it comes to workout clothes, it seems like everyone wears either neon colors or all-black to the gym with no in-between. We understand the thought process behind these two color choices: Black is slimming, and neon hues offer the best visibility. But have you ever thought about switching it up just a little by dressing in colors and patterns that fit the season?
For fall and winter, try dressing in moodier tones, such as dark purples and deep reds (which are also slimming, FYI). Around the holiday season, embrace metallics with a pair of silver leggings that make you shine like the star you are. When spring and summer come around, embrace floral patterns and pastels to refresh your style for the season.
5. Let Your Leggings Do All The Talking.
Let's be real. If you're not rocking a pair of bike shorts to the gym, then you're probably wearing leggings. A solid pair of leggings is the key component to most of our activewear outfits, so why not let them take center stage?
Revamp the standard black leggings by opting for bold colors and statement-making prints. For an on-trend gym outfit, embrace the snakeskin trend with a pair of python print leggings. Not an animal print fan? Switch up your basic black leggings with a color-blocked pair that expresses your personality.
6. But Maybe Let Your Gym Bag Sneak A Word In, Too.
Who says that your leggings need to steal all the fun? If you haven't upgraded your old, canvas gym bag since—well—never, then now is the time to give it a stylish new look. Gym bags are getting more expressive lately, with many of them featuring tongue-in-cheek sayings that are sure to give your fellow gym-goers a laugh.
Are you a wine lover? Get a gym bag that says, "I was told there would be wine." Want your bag to be motivating? Pick up a stylish bag that says, "eat clean, train dirty," and make it your new morning mantra. Upgrade your old gym bag and we promise that you'll be extra excited to pack your bag with stylish workout essentials that get you motivated in the gym.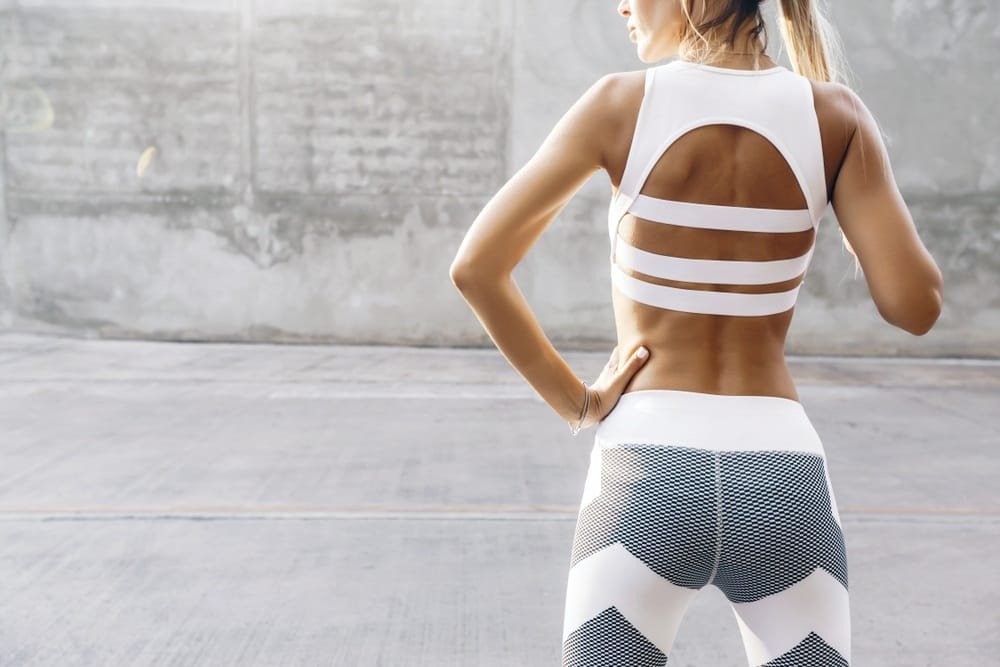 7. Show Off Your Best Features.
Not everyone is comfortable with rocking a crop top, and that's okay! If you're self-conscious of your tummy area and don't want to bare your midriff, focus on another area that you're super proud of, such as your shoulders and back.
If you've been killing it on the row machine, consider showing off those sexy shoulder blades with a strappy bra and a backless top. Want to show off your defined biceps? Wear a sleeveless racerback top that puts all your hard work on display. By dressing for your shape, you'll be confident and motivated before you even step inside the gym.
8. Customize Your Gym Top.
Tired of looking like everyone else at the gym? We hear you. If you want to stand out from the rest of your fellow gym-goers (in a good way), try putting your own spin on your workout top by adding strategic cutouts.
If you'd rather not take scissors to your high-quality gym top (totally understandable!), consider tying a knot on a baggier shirt to instantly upgrade your look. Not only is a knotted shirt easy to make, it's also a great way to refresh your existing gym attire without spending a dime. That means more money you can spend on those stylish sneakers you've been eyeing for ages.
Don't be afraid to rock a new look at the gym. Elevating your workout outfit can help boost your confidence, so tackle your next workout while looking and feeling your best.