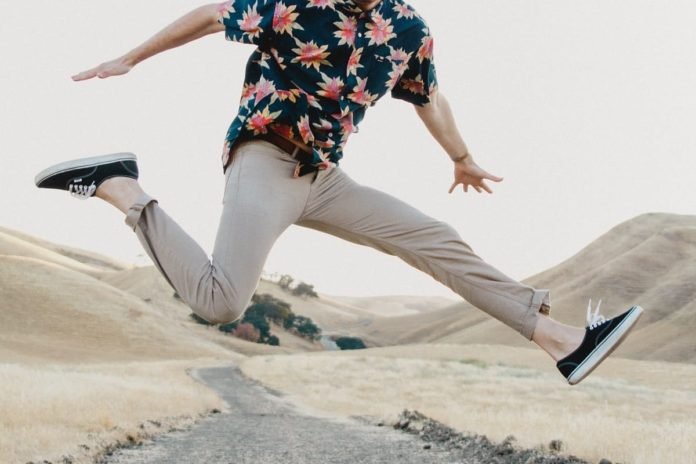 Chinos are lightweight trousers made from a cotton blend with a twill weave. They typically have a tapered leg and are rarely pleated. Chinos are a versatile choice for professional wear and weekend attire, making them a hard-working addition to any closet. As you prepare to ditch the loungewear of 2020 and step out in style, you'll want to stock your closet with at least a few pairs of these pants.
Khaki Chinos
The words khakis and chinos get used interchangeably, but khaki is a color while chino is a type of pants style. Khaki-colored chinos are a classic choice that makes it almost impossible to get wrong with your wardrobe. For a neat professional or semiprofessional look, select complementary earth tones for the rest of your outfit. A white dress shirt and brown or beige jacket gives you a pulled-together outfit that can go anywhere. If you want something more casual, wear your khaki chinos with a bright patterned button-down shirt, denim shirt, or plain T-shirt.
White Chinos
White chinos are a bold choice that's sure to turn heads. Bright and snappy, white chinos are an excellent option for the summer months. White chinos naturally look like they're ready for a stroll down the boardwalk or an oceanside lunch date under gently swaying palms.
For a professional look, pair these chinos with a light-colored button-down shirt and gray suit jacket. For casual attire, pair your white chinos with a sleek striped T-shirt or a denim button-down shirt. Don't hesitate to roll up the hem and finish your look with a pair of gray loafers.
Navy Chinos
Timeless navy is a great go-to choice when you want a versatile look that you can wear throughout the year. You can easily pull these chinos out for summer wear, but they don't have to retreat to the back of the closet as you roll into fall or winter. The darker fabric of navy chinos is naturally slimming, making navy a great color for you if you're looking into slim-fit chinos or stretchy skinny chinos.
Try this season's monochromatic trend and wear your navy chinos with a navy T-shirt. Complementary shades of blue go well with these pants, too. Complete your outfit with a pair of bright white sneakers for casual attire, or choose brown loafers for a more professional look.
Colored Chinos
Bright colors are one of the hottest summer 2021 men's fashion trends. As we all strive to break away from the doldrums of 2020, head-turning hues have become incredibly popular. Try stoplight-red chinos to stop admirers in their tracks. Pair them with a neat white shirt or a striped or checkered pattern that features a significant amount of white to help balance this bright outfit. Sunny yellow or orange chinos look stunning with a slate blue shirt. Colorful chinos are the perfect pick when you want an exciting look for your weekend wear.
Chinos are a do-it-all option that you can turn to for a sharp, well-dressed appearance at nearly any event. You'll love having them on hand in your closet as your calendar begins to fill with exciting events this summer.